Netflix is actively exploring partnership options for an ad-supported variation of its video platform. Company CEO Ted Sarandos confirmed last week that the company is speaking to multiple partners. Alphabet's Google and Comcast's NBCUniversal have emerged as leading contenders. "We're talking to all of them right now," Sarandos said during the Cannes Lions Festival of Creativity advertising conference. "We want a pretty easy entry to the market — which, again, we will build on and iterate in. What we do at first will not be representative of what the product will be ultimately. I want our product to be better than TV."
Sarandos is reportedly looking "to design an ad experience that would be 'more integrated and less interruptive' than traditional TV advertising," The Wall Street Journal reports. Sarandos said that while he's exploring partnerships, there is a chance Netflix will bootstrap its own ad team.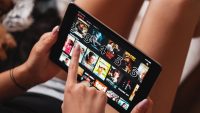 There has been speculation about an ad-supported Netflix tier since April when the company reported its first quarterly subscriber loss in 10 years. A low-priced, ad-supported tier is a pretty obvious way to boost subscriptions and revenue.
"U.S. revenue for ad-supported streaming platforms will triple between 2020 and 2026 to $31 billion," writes Digiday, sourcing a report by Research and Markets that says the U.S. will grow its global total share of that pie "from 37 percent in 2020 to 47 percent by 2026."
Netflix is fighting to carve its path amidst an onslaught of new competition in the streaming sector. Though the company ultimately had a disappointing 2022 Oscars (one win in 27 nominations), it is still investing in high-profile fare, and mainstays like "Stranger Things" still pull a crowd.
This year, Netflix has two high-profile original biopics: "Maestro," directed by and starring Bradley Cooper as Leonard Bernstein, and "Blonde" with Ana de Armas as Marilyn Monroe. Directed by Andrew Dominik, "Blonde" is Netflix's first original to earn an NC-17 rating, which may generate buzz among consumers and appeal to advertisers.
According to The Guardian, "Dominik's film is reportedly brutal — and revolutionary," and Cannes Film Festival director Thierry Frémaux "loved" it, "and wanted it to play on the Croisette," but Netflix balked at the condition that it not stream for 18 months following a Cannes premiere.
"We've left a big customer segment off the table, which is people who say: 'Hey, Netflix is too expensive for me and I don't mind advertising,'" The Verge quotes Sarandos saying at the Cannes Lions Festival, where he explained he is "not adding ads to Netflix as you know it today. We're adding an ad tier for folks who say, 'Hey, I want a lower price and I'll watch ads.'"
Topics:
Advertising
,
Alphabet
,
Ana de Armas
,
Andrew Dominik
,
Blonde
,
Bradley Cooper
,
Cannes Film Festival
,
Cannes Lions
,
Comcast
,
Google
,
Leonard Bernstein
,
Maestro
,
Marilyn Monroe
,
Movies
,
NBCUniversal
,
Netflix
,
Research and Markets
,
Stranger Things
,
Streaming
,
Subscriptions
,
Ted Sarandos
,
Thierry Frémaux
,
TV Shows