Anyone who has ever read a story to a child knows the drill: children want to hear their favorite stories over and over again. That's the major ingredient in Netflix, Amazon Instant Video and Hulu's success in courting young audiences (and their parents). On-demand video makes it easy for a child to replay, over and over again, his or her favorite TV episodes or movies. Acutely aware of the phenomenon, these companies are actively working to provide video content for the young set, turning toddlers into life-long viewers.
According to the American Academy of Pediatrics, the average 8-year-old spends 56 hours a week using electronic media, much of it on mobile devices, laptops or tablets.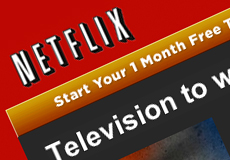 An article in the Los Angeles Times' California Sunday reports on how Netflix and Amazon are engaging the younger demographic on those platforms. Netflix, in 36 percent of "high-tech" American households, signed a 2013 deal with DreamWorks Animation "for hundreds of hours of new shows, based on recent franchises like the 'Madagascar' movies and 'Puss in Boots' as well as classic series like 'Veggie Tales.'"
Amazon Instant Video, in 13 percent of Nielsen households and growing, licenses preschool shows from Nickelodeon and creates original shows such as the animated "Tumble Leaf," which won five Daytime Emmys.
Pluses for parents are the ad-free environment and the generally high quality of the content. Netflix Chief Content Officer Ted Sarandos notes that, "it's about building early relationships."
"What's great about Netflix is it's the only channel where the viewer actually ages without having to change the channel," he said. "On Netflix, we have programming for all the ages, so you just keep aging through the system, and there's another group of 5-year-olds behind you."
Netflix researchers have learned that preschoolers think they are interacting with the characters they see, which led to the company's "character navigation bar" to navigate preferences.
Both Netflix and Amazon have indicated that they plan to move towards "another stage of interaction with programming," including embedding games in the narrative.
Topics:
Amazon
,
Amazon Instant Video
,
American Academy of Pediatrics
,
Children
,
DreamWorks Animation
,
DWA
,
Emmy
,
Episodes
,
Hulu
,
Laptops
,
Madagascar
,
Mobile
,
Movies
,
Netflix
,
Nickelodeon
,
Nielsen
,
Programming
,
Puss in Boots
,
Streaming
,
Subscribers
,
Tablets
,
Ted Sarandos
,
Television
,
Tumble Leaf
,
TV Shows
,
Veggie Tales
,
Video
,
VOD