N3twork (pronounced "network") is a new app hoping to make video discovery a little easier by organizing online videos into channels, similar to those found on traditional TV. These channels, though, are personalized using data from the users. On each video, the viewer has the option to swipe right to save for viewing later, swipe left to skip, or tap to watch. The service pulls video from an estimated 6,500 different online sources, and users can also upload their own videos.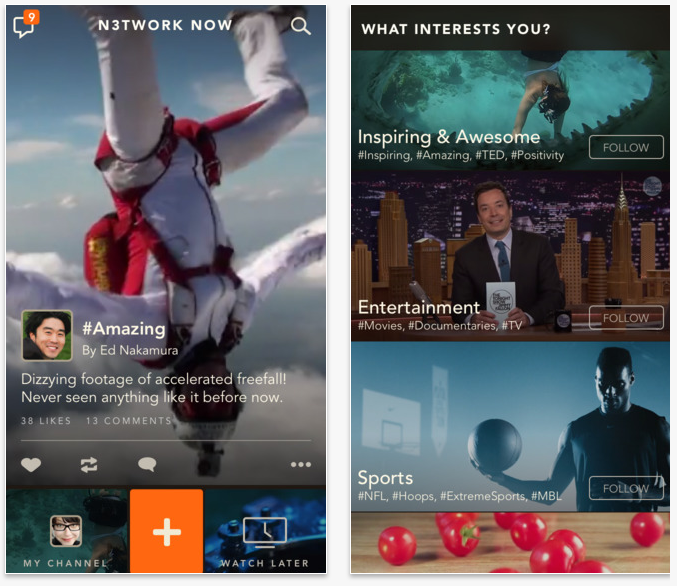 The videos on N3twork cover a wide array of topics, and users are asked to choose broad areas of interest. Once users select topics, they will be presented with videos, some of which are from an even narrower topic.
"Over time, N3twork learns your viewing, saving, and skipping habits to more narrowly personalize its offerings to your tastes," reported Wired. There's no skipping the advertising, though. Viewers will still have to watch the ads built into the online videos.
The N3twork app was created to help users find the good content that goes unwatched. N3twork was created by former gaming exec Neil Young, who realized that small startups could not compete with traditional channels, so he targeted the "fat middle" — the niche channels on cable — and essentially made them into more personalized channels.
He does this with a combination of algorithms and human input. Algorithms will tag videos and put them into basic categories, such as sports, business, or technology. Then, human curators will give the content even more specific tags to help these videos get to the right audience.
N3twork is processing about 1,000 hours of video per day, adding tags to videos from YouTube, BBC, Bloomberg and others. Eventually, the N3twork users will be able to tag videos on their own to keep the content fresh.
The app is currently available on iOS. For viewers hoping to watch their channels from N3twork on the big screen, the AirPlay interface is user-friendly and the phone app will become a remote.
Topics:
Advertising
,
AirPlay
,
App
,
Apple
,
BBC
,
Bloomberg
,
Cable
,
Channel
,
Curation
,
Gaming
,
Internet
,
Internet TV Network
,
iOS
,
N3twork
,
Neil Young
,
Online
,
Personalized
,
Streaming
,
Television
,
TV
,
Video
,
Video Discovery
,
Viewing Habits
,
YouTube