According to an Ipsos study commissioned by Google, younger moviegoers are more inclined to watch movie trailers on YouTube than on television. While 54 percent of respondents age 13-24 indicated they are more likely to watch trailers via YouTube, an impressive 65 percent said that trailers they watch on YouTube will influence what films they end up seeing in theaters. In addition, a related study from Google and Millward Brown Digital found that 81 percent of moviegoers age 18-64 who watch movie trailers online turn to YouTube as well.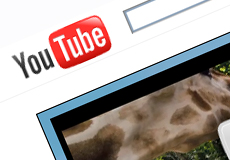 "The results make sense: Younger consumers are watching less traditional TV, and their appetite for Internet video is on the rise," reports Variety. "YouTube is eager to grab the ear of Hollywood marketers looking to spend more dollars online (shifting budgets from TV) to promote their new releases — especially as Facebook and other competitors step up their push into the online-video arena."
According to Google-owned YouTube, its mobile audience watched 35 million hours of movie trailers during the first half of this year, an 88 percent increase over 2014.
And for the first six months of 2015, "74 percent of moviegoers searched online to find movie showtimes, while 56 percent of searches related to movie tickets were from a mobile device," Variety notes.
The top-viewed trailers on YouTube for the second quarter of 2015:
"Star Wars: The Force Awakens Official Teaser #2″ (Disney, 67.8 million)
"Batman vs. Superman: Dawn of Justice – Official Teaser Trailer" (Warner Bros., 57 million)
"Jurassic World – Official Global Trailer" (Universal, 27 million)
"Terminator: Genisys Official Trailer #2″ (Paramount, 19.7 million)
"Marvel's Ant-Man Trailer 1″ (Disney, 17 million)
Topics:
Ant-Man
,
Batman vs. Superman
,
Disney
,
Facebook
,
Feature Films
,
Google
,
Hollywood Studios
,
Internet
,
Ipsos
,
Jurassic World
,
Marketing
,
Marvel
,
Millward Brown Digital
,
Mobile
,
Movie Tickets
,
Movies
,
Online Video
,
Paramount
,
Star Wars
,
Streaming
,
Television
,
Terminator
,
Theaters
,
Trailers
,
Universal
,
Video
,
Warner Bros.
,
YouTube