Paramount Pictures has inked a deal with two major theater chains to release two upcoming films on DVD just two weeks after they leave theaters, a significant change to the traditional schedule. Since the 1980s, and the advent of the VCR, studios have waited at least 90 days, so this new deal marks a real break with the status quo. The Viacom-owned movie studio has partnered with AMC Entertainment Holdings Inc. and Canada's Cineplex Inc., two of North America's largest exhibitors.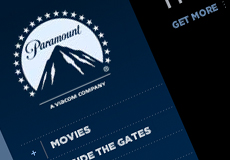 The films in question are two October releases: "Paranormal Activity: The Ghost Dimension" and "Scout's Guide to the Zombie Apocalypse."
According to The Wall Street Journal, Paramount hopes to implement this policy for all its new releases by the end of next year. With regard to the two October releases, Paramount vice chair Rob Moore said that if no other exhibitors agree to the new terms, Paramount plans to release the movies just with those two chains.
The window between theatrical release and DVD release has been a bone of contention for exhibitors who believe that fewer viewers will come to the theater if they know they can see the movie at home sooner. But the contrary view holds that a 90-day window encourages piracy and doesn't take current consumer viewing patterns into consideration.
To make the shortened window more palatable to exhibitors, Paramount will share a portion of revenue from iTunes downloads, video-on-demand and other digital channels. Moore says the same terms are available to other theater chains. A recent Paramount survey revealed that 72 percent of consumers aren't aware of the 90-day window.
"Our expectation is that total revenue will rise and the theatrical revenue will be relatively unaffected, if at all," said Moore. "Paranormal" producer Jason Blum agrees. "If we want movies to stay relevant against other media, we need to experiment," he said.
Topics:
AMC Entertainment
,
Canada
,
Distribution
,
DVD
,
Exhibition
,
Exhibitors
,
Feature Film
,
Hollywood Studios
,
iTunes
,
Jason Blum
,
Movie
,
North America
,
Paramount Pictures
,
Paranormal Activity: The Ghost Dimension
,
Piracy
,
Release Window
,
Rob Moore
,
Scout's Guide to the Zombie Apocalypse
,
Theater
,
VCR
,
Viacom
,
Video On Demand
,
VOD