M-GO, the movie service launched by Technicolor and DreamWorks, recently announced that it is adding LG TVs to its growing list of supported devices. The company is also launching new personal Cards for its Web app, a personalization feature akin to Pinterest for your movies. As part of its expansion strategy, M-GO has ambitious content plans, which possibly include integrating a locker service for access to personal content, in addition to live television.
"This marks the fourth major device partnership for M-GO, which is also available on Samsung, Vizio and Google TV sets," reports GigaOM. "Now M-GO wants to refine its apps, starting with a new Web app experience — and eventually launch additional content, including possibly live TV feeds."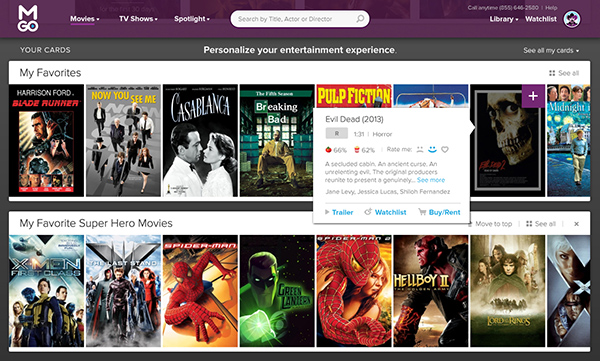 According to M-GO CEO John Batter, what sets his platform apart from similar services such as iTunes, Amazon, Vudu and CinemaNow is personalization. To meet the demands of its customers' multi-dimensional tastes, the company is launching a series of new features through M-GO Plus, including new means of discovering, browsing, curating and managing content.
The M-GO Blog details some of the new capabilities:
Control your browsing experience so that content is organized in a personally relevant way making it easier than ever to discover great content and start watching it quickly.
Enjoy a simple and intuitive experience that allows you to "Plus" the content that you love and group that content into new or existing "Cards."
Curate content, rename cards and fine tune the recommendations presented, by clicking the "Plus" on those films or TV shows and renaming lists of recommendations accordingly so that the card becomes prominent when browsing.
Similar features will be available in the future on M-GO's mobile and connected TV apps. Batter told GigaOM that M-GO is also considering a locker service as well as live TV.
"At the same time, he warned that getting deals for live TV content is anything but easy, something that competitors like Intel Media and Sony are currently experiencing as well. That's why M-GO may look for slightly different approaches, possibly partnering with pay TV operators instead of competing with them," notes the article. "That's why, for the time being, M-GO wants work on getting its transactional content offering right. But in 2014, we will see at least one form of additional content come to the service, promised Batter."