During yesterday's press event at company headquarters in Cupertino, Apple CEO Tim Cook unveiled the iPhone 5s touting a 64-bit A7 processor with twice the number of transistors as its predecessor, promising speeds twice as fast. As rumored, the company is also offering the lower-cost iPhone 5c with polycarbonate design, starting at $99 with contract. In addition, Apple announced that its iTunes Radio service and redesigned iOS 7 are both scheduled to launch next week.
The iPhone 5s, crafted in high-grade aluminum, will be available in black, silver and gold. According to Phil Schiller, senior VP of worldwide marketing at Apple, the 5s is "the most forward-thinking phone we've ever created."
"There's OpenGL ES 3.0 on board, but the next-gen handset still promises, thankfully, to remain compatible with the 32-bit apps of yesteryear," reports Engadget. "The 5s also rocks the new M7, which monitors motion data in real-time, with help from the accelerometer, gyroscope and compass — a feature that'll work nicely with fitness apps like the new Nike+ Move."
In terms of battery life, Apple says the 5s offers a full 10 hours of 3G talk time and LTE browsing as well as 40 hours of music playback.
Apple is including image stabilization and a burst mode of 10 frames per second. "The camera features a sensor that's 15 percent larger than the one on its predecessor as well as a five-element, Apple-designed lens with an f/2.2 aperture," notes Engadget. "Also on board is autofocusing matrix metering, so you can leave the arty blurring to Instagram. Even the flash is getting an upgrade this time out. Apple's offering up 'True Tone,' which features 1,000 variations of color temperatures to help you get things like flesh tones just right."
The fingerprint reader we reported on earlier in the week is also on board: "The phone features a 170-micron-thick sensor with a 500 ppi resolution built into the Home button that'll biometrically let you into the phone. Apple calls it Touch ID, building the feature directly into the operating system."
The 5s will be available in the U.S. starting September 20th, starting at $199 for the 16GB version. The 32GB model will be offered for $299, while the 64GB model will run $399.
The company also unveiled the lower-cost iPhone 5c with 4-inch Retina display and polycarbonate design, which Apple's Jony Ive describes as "beautifully, unapologetically plastic."
The 5c will be available the same time as the 5s in in blue, white, pink, yellow and green. It will run $99 with a two-year contract for the 16GB version or $199 for the 32GB model.
"As for specs, you'll get the same 4-inch Retina display as the iPhone 5 (full sRGB), plus an A6 processor, LTE, Bluetooth 4.0 and dual-band 802.11a/b/g/n Wi-Fi connectivity, a higher capacity battery and an 8-megapixel, backside-illuminated camera with a 5-element lens," reports Engadget in a related post. "A new front-facing camera also promises better performance in low light."
Apple also announced that its new iTunes Radio service and redesigned iOS 7 will launch next week on September 18th.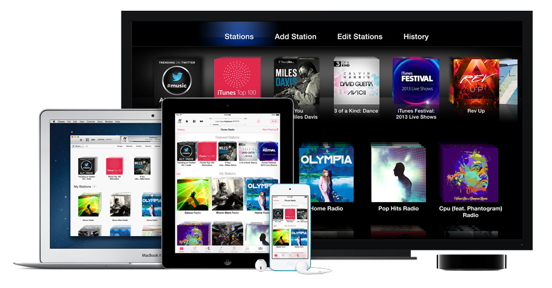 Updates to the mobile operating system include the new Control Center, retooled notifications, redesigned calendar, improved Siri functionality and thinner typography.
Apple's iTunes Radio service, available on iPhone, iPad, iPod touch and desktop, is built directly into iOS 7's music app, offering listeners access to radio based on their music collections. The service also includes hundreds of its own stations that are categorized by artists and genre. The app is available for free with ads, or ad-free for iTunes Match subscribers who pay the $25-per-year fee.
Topics:
3G
,
Apple
,
Bluetooth
,
Burst
,
California
,
Camera
,
Cupertino
,
Fingerprint
,
Flash
,
Instagram
,
iOS
,
iOS 7
,
iPad
,
iPhone
,
iPhone 5c
,
iPhone 5s
,
iPod touch
,
iTunes
,
Ive
,
LTE
,
M7
,
Match
,
Mobile
,
Music
,
Nike
,
OpenGL
,
Phone
,
Plastic
,
Radio
,
Retina
,
Schiller
,
Security
,
Siri
,
Smartphone
,
Stream
,
Tablet
,
Tim Cook
,
Touch ID
,
True Tone
,
Wi-Fi