Earlier this week, we reported that GM is getting ready to release more than 30 new vehicles equipped with built-in 4G LTE service provided by AT&T. A number of new models from various automakers are also looking to become rolling Wi-Fi hot spots this year as car and app makers make the long-awaited push into new software and communications links. New models will feature dashboard electronics that make it easier to access smartphone apps for traffic, weather, news, entertainment and more.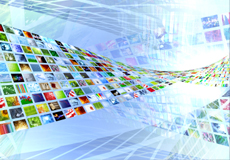 "Driven by consumer gripes — and by visions of new streams of revenue — auto makers and major players in the smartphone and apps industry dug into their software and hardware to remove a variety of obstacles to smooth integration of vehicle displays and the output from apps," reports The Wall Street Journal.
GM is embedding music streamer Pandora into dashboards of Chevrolets, Buicks and Cadillacs, while Honda is putting Aha Radio in its vehicles. Mercedes-Benz dashboards are already featuring the TuneIn radio app for access to radio broadcasts from around the globe. And BMW is developing its own automotive app store, which should launch this year in Europe and next year in the U.S.
"Next year GM and Audi will roll out models with their own 4G high-speed Internet connections, so drivers won't even need smartphones at all," notes WSJ.
"Apps for streaming music and navigation are only the start of what people will soon be able to do in their cars. Ford has shown its infotainment system running an app that places orders at the nearest Domino's Pizza outlet. Recently, auto makers have started allowing software developers to draw data from the car itself, like fuel economy."
"This year is a tipping point," said Gartner analyst Thilo Koslowski. "There has been a lot of talk about apps in cars, but from 2014 forward, the revolution really happens."
Related:
GM Scheduled to Launch Cars Equipped with 4G LTE Service, ETCentric, 5/14/14
Topics:
4G
,
Aha
,
App
,
Apple
,
AT&T
,
Audi
,
Auto
,
Automobile
,
BMW
,
Buick
,
Cadillac
,
Car
,
Chevrolet
,
Chevy
,
DASH
,
Dashboard
,
Data
,
Develop
,
Developer
,
Domino's
,
Drive
,
Driver
,
Economy
,
Entertainment
,
Food
,
Ford
,
Fuel
,
Gartner
,
GM
,
Honda
,
Hot Spot
,
Infotainment
,
Internet
,
iTunes
,
Koslowski
,
Links
,
LTE
,
Mercedes-Benz
,
Mobile
,
Motors
,
Music
,
Navigation
,
News
,
Online
,
Pandora
,
Phone
,
Radio
,
Restaurant
,
Retail
,
Revolution
,
Safety
,
Smartphone
,
Software
,
Store
,
Stream
,
Streaming
,
System
,
Traffic
,
Trend
,
Vehicle
,
Weather
,
Wi-Fi