General Motors released prices for its first vehicles equipped with built-in LTE 4G, essentially turning the cars into rolling Wi-Fi hot spots. The automaker will launch its 2015 models in the next month, and plans to release more than 30 new vehicles with LTE broadband connectivity, as well as numerous new communications, safety, and navigation services. The communications service will be provided by AT&T, and the cars will come with a free, three-month trial with three gigabytes of data.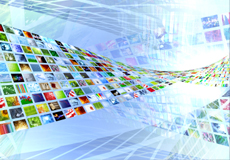 After the trial is over, customers can pay $10 per month for 200 megabytes of data. This price is discounted to $5 a month for customers who also pay for GM's OnStar navigation and safety service, with costs about $200-$300 a year. Non-OnStar customers can opt for 1 gigabyte at $20-a-month, 3 gigabytes at $30 a month, and $50 a month for 50 gigabytes.
First, GM will release the 4G LTE equipped 2015 Chevrolet Malibu in its showrooms in June. Later, the company will release the Chevrolet Impala, Corvette, Cruse, Silverado, Equinox, four Buick models, six GMC vehicles, and the SRX, ATS, CTS, and three others from Cadillac with 4G LTE service.
GM believes 200 megabytes of data is enough to surf the Internet for about 13 hours, or to stream music through an app like Pandora for 6.5 hours.
"Companies will initially face a consumer reaction of 'I already have a data plan with my phone,'" said Thilo Koslowski, a Gartner analyst.
"That means that the in-vehicle experience has to be better, faster and more robust than what people are used to with their smartphones," reports The Wall Street Journal. "If that is not strong enough, prices will have to drop," Koslowski said.
"Volkswagen AG's Audi plans to offer a 4G LTE service later this month with its A3 sedan," notes the article. "After a trial period, Audi owners would pay $99 for 5 gigabytes of data over six months, or choose 30-month plan that includes 30 gigabytes of data for $499."
Topics:
4G
,
A3
,
App
,
AT&T
,
ATS
,
Audi
,
Broadband
,
Buick
,
Built-In
,
Cadillac
,
Car
,
Cell
,
Chevrolet
,
Communications
,
Connection
,
Corvette
,
Cruse
,
CTS
,
Data
,
Discount
,
Driving
,
Equinox
,
Gartner
,
GM
,
GMC
,
Hot Spot
,
Impala
,
Internet
,
Koslowski
,
LTE
,
Malibu
,
Model
,
Music
,
Navigation
,
OnStar
,
Pandora
,
Phone
,
Price
,
Release
,
Safety
,
Sedan
,
Showroom
,
Silverado
,
Smartphone
,
SRX
,
Stream
,
Surf
,
Trial
,
Vehicle
,
Volkswagen
,
Wi-Fi