Chad Hurley and Steven Chen, the founders of YouTube, have released a new video creation and sharing app called MixBit. It is similar to other video apps such as Twitter's Vine and Facebook's Instagram. The app will allow users to capture 16 seconds of video, while Vine's maximum is six seconds and Instagram's limit is 15 seconds. MixBit is different from its competitors in that it allows video editing, but others may soon introduce this feature as well.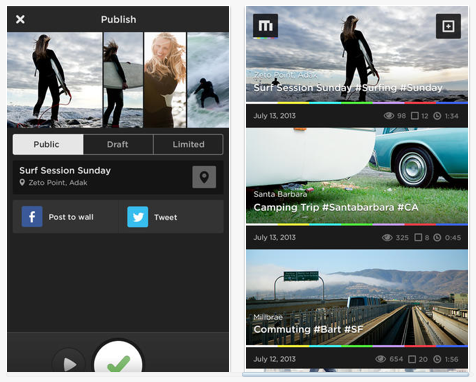 MixBit offers video mixing and editing and has simple tools on the app and Web versions to edit a clip or combine up to 256 clips for an hourlong video. The MixBit site also lets users slice and remix videos from publicly available video content.
The final video can be shared on MixBit's website, Twitter, Facebook or Google+. Web and iOS versions are available, with an Android version coming in the next few weeks.
The main goal of the site is to encourage users to remix other videos in order to create new works, according to Hurley. MixBit is the first major product to come from Avos Systems, the startup founded by Hurley and Chen, which has received funding from Google, as well as Innovation Works, Madrone Capital and New Enterprise Associates.
"The whole purpose of MixBit is to reuse the content within the system," said Hurley. "I really want to focus on great stories that people can tell."
The feature to edit and create more complex videos could give the company an advantage over its competitors, at least for the moment. Vine does not offer any editing, while Instagram recently introduced very basic video editing.
Twitter and Vine were not yet satisfying the wants of young consumers to play, remix and combining video, according to Laura Krajecki, chief consumer officer of the advertising company Starcom MediaVest Group. "Create an app that lets people edit it, and that's where people are going to go," she said, speaking about the market and not necessarily MixBit.
"But one crucial decision by Avos is likely to hold it back: the app is totally anonymous and communal," argues The New York Times. "Users cannot post their videos under a name, and they cannot comment on each other's work." However, Hurley suggests that MixBit may add identity features at some point.