It was not that many years ago when CES executive vice president Karen Chupka convened a meeting at the Four Seasons Hotel in Los Angeles with representatives of the Hollywood studios to pitch CES as a place for entertainment. It was a stretch for some people in the room that day to imagine doing meaningful business there. Cut to CES 2019 and entertainment was everywhere. The enabling power of 5G and AI combined with more powerful processors and beautiful new televisions had everyone talking about entertainment and experiences.
The full potential of 5G will manifest over time, but the best example to illustrate how fast it can be is the under 10 seconds it takes to download a feature film compared to today's 3-4 minutes on a good connection. While Verizon CEO Hans Vestberg (below) said that speed is just one "currency" of 5G and downloading or streaming movies is obvious, for examples of innovation that will create new opportunities he highlighted Disney's StudioLab and The New York Times, which now makes extensive use of video in their storytelling.
AMD introduced its new Ryzen Threadripper 32 core, 64 thread processors specifically designed for content creators. CEO Lisa Su (below) extolled advantages and cost savings for virtual production and included behind-the-scenes footage and comments from the Fox VFX Lab to back up her claims.
In 2011, CES partnered with Variety to produce the Entertainment Matters program mostly to attract media and entertainment executives to what then was still called the Consumer Electronics Show. In 2015, CES introduced C Space as a conference venue focused entirely on media and entertainment. If its first years drew modest crowds, this year the Aria conference sessions were generally standing-room-only to hear top marketers, content creators, network and studio executives, and marketing tech leaders. The hallways were crowded with media buyers and sellers taking meetings in tony hospitality suites.
The shift away from traditional print and basic broadcast has accelerated. Ad spending in the United States, according to Statistica, placed mobile on top at 34 percent and paid search at 23 percent, followed by national TV (20 percent), desktop (18 percent), and social (14 percent). Local TV, print, radio, video, and other out of home account for the remainder. Many factors feed into this shift to digital, but it is entertaining content that attracts and engages audiences.
CTA celebrated this fact as the CES 2019 week opened. "Consumer spending on music and video streaming services is valued at $26 billion in revenue, 25 percent higher than last year," the trade organization reported in its Sales and Forecast Report. "The availability of live TV streaming and exclusive, award-winning content through subscription video streaming services will push consumer spending to $18 billion in 2019, up 27 percent from 2018. On-demand music services (e.g., Spotify, Pandora or Apple Music) will bring in an expected $7.7 billion in revenue, up 22 percent as providers race to gain subscribers."
Another noted trend was the rise of podcasts, with Pandora the latest to enter this fast-growing segment. That podcasts have adopted a far more narrative style with clear heroes and villains was a topic discussed on a C Space panel moderated by UTA agent Joe Schwartz. They've also become a proving ground for stories and storytellers, as well as a place to build a fanbase, leading to a number of television series deals. The rise of podcasts also highlighted a growing appreciation and respect for audio.
Audio was a major aspect of Sony's CES presence, from Pharrell Williams (below) talking about respect for the intention of the artist to Sony's new line of immersive soundbars.
Live sports and eSports were another area that received extra attention this year. Players and teams, stars and rising talent, are all finding ways to connect and engage with their fans — often with significant opportunities for themselves and sponsors.
CES is always the place to see televisions but recent years have been more about new competitors and budget prices from Chinese manufacturers. Not this year. The excitement was in the booths of the three main players: Sony, Samsung and LG. They all showed epic screens and plenty of 8K capability, but it was LG's dramatic showcasing of the rollup OLED (below) that stole the show and inspired many a wish list addition.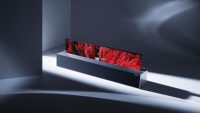 There seemed to be AI in almost everything at CES, but it is the AI that is built into the streaming services and the latest generation of televisions that is beginning to deliver an increasingly accurate and personalized experience for the audience.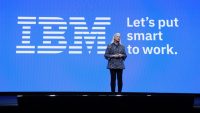 The marketing tracks and Digital Hollywood sessions were all over it, but so was first-time CES exhibitor John Deere, showing AI on the modern farm. It certainly was a main focus for IBM's chair, CEO and president Ginni Rometty (above) in her keynote. Among the work showed was an advancement in Project Debater, an AI project that debates humans on complex topics. ETC consultant Yves Bergquist noted that "this is impressive because it can semantically process the meaning of languages, which is a bit of a holy grail in AI."
Related:
Rory Cellan-Jones and the BBC Tech Team Spot the Latest Trends at the CES Expo, BBC Sounds, 1/14/19
TVs in 2019 Are About to Get a Lot Brighter, Smarter And Slicker, Wired, 1/13/19
Topics:
5G
,
8K
,
Advertising
,
AMD
,
Apple Music
,
Artificial Intelligence
,
CES 2019
,
CTA
,
Disney
,
eSports
,
Fox VFX Lab
,
Ginni Rometty
,
Hans Vestberg
,
IBM
,
Joe Schwartz
,
John Deere
,
Karen Chupka
,
LG
,
Lisa Su
,
M&E
,
Movies
,
Pandora
,
Pharrell Williams
,
Podcasts
,
Project Debater
,
Ryzen Threadripper
,
Samsung
,
Sony
,
Spotify
,
Statistica
,
StudioLAB
,
SVOD
,
Television
,
The New York Times
,
UTA
,
Variety
,
Verizon
,
Video
,
Yves Bergquist