Chinese startup Nreal unveiled augmented reality glasses at CES 2019 featuring high-quality visuals and a sleek form factor that are slimmer than the Vuzix Blade AR glasses. The Nreal glasses weigh 85 grams (less than one-fifth of a pound) and offer 1080p projection through both lenses, with a 52-degree field of view. That makes the Nreal glasses closer to a Magic Leap headset or Microsoft HoloLens glasses — with an even better field of view. Nreal, similar to Magic Leap, also requires a processor pack connected to the glasses.
At The Verge, a reporter had a chance to try out the Nreal Light glasses and noted that demonstrations "featured incredibly crisp visuals, and the wide FOV makes a huge difference when it comes to actually enjoying what you're looking at." But, in the demonstrations, the Nreal glasses weren't as good as Magic Leap when it came to blending virtual images with real-world objects.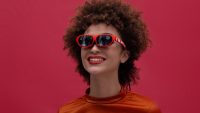 The Nreal motion controller "is a small circular puck that connects magnetically to the processor pack." Because the processor pack uses USB-C, users can power it via their phones (it's only working with Samsung at the moment).
Nreal specs include a "Qualcomm Snapdragon 845, 360-degree spatial sound through two speakers, and built-in microphones to enable future voice control and smart assistants," as well as "other built-in sensors for providing full 3D movement through 3D scenes, known as 6DoF (six degrees of freedom)." The wireless controller is only three DoF, however.
There are two front-facing cameras for "SLAM, or simultaneous localization and mapping," versus Magic Leap's three on each side of the front, which "is likely why it's not as adept at mapping environments and enabling interactive AR features." Nreal is slated to ship in Q3 this year for a price "likely under $1,000." The biggest gap is content, since, "there's no existing library of AR content."
TechCrunch reports that Nreal, a startup established two years ago, raised $15 million, which the company announced at CES. That includes a "Series A from Shunwei, the venture fund that Xiaomi's founder set up, Baidu's video streaming unit iQIYI, investment firm China Growth Capital and others." Xiaomi, best known for its inexpensive smartphones, has ambitions to create an "Apple Home-like ecosystem," and iQIYI "already has a channel dedicated to virtual reality" and wants to expand that to MR content.
According to Nreal founder/chief executive Xu Chi, by taking money from Shunwei rather than parent company Xiaomi, his company remains neutral. "We don't want to pick sides," he said. "We want to be able to work with Oppo and a whole lot of other brands. We want to be compatible with a wide range of devices." He revealed that Nreal "was able to shrink its gadget size because it uses a display solution that requires fewer cameras and sensors than its peers."
Related:
How 3 Augmented Reality Hardware Startups Are Preparing for the Consumer Market, Variety, 1/14/19