As Netflix continues its subscriber growth (it added 5.2 million subscribers the last quarter), the streaming service's app has also taken the top spot in revenue earnings. Analytics firm Sensor Tower reports a 233 percent revenue growth to $153 million year-over-year for Q2. "That's up from the $46 million seen at this same time last year, across both top app store platforms, and on the iOS App Store alone," notes TechCrunch. "This level of growth puts Netflix far ahead of the average revenue growth across both app stores, which is currently at 56 percent."
"Non-gaming revenue from in-app purchases and subscriptions grew by 56 percent year-over-year in Q2," according to Sensor Tower. Netflix "was the highest grossing app worldwide for the third consecutive quarter across the App Store and Google Play."
The revenue increase is a result of the app ecosystem's continued growth in addition to Netflix's significant jump (4+ million) in international subscribers. New users are often registering for the service from smartphones and paying via in-app purchases.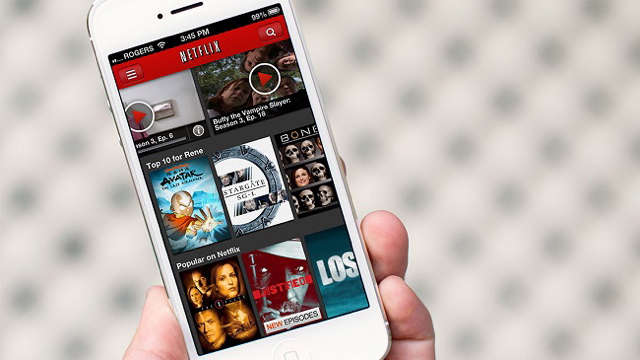 Netflix's Q2 revenue was up 32 percent, and 36 percent in Q1. "However, these figures take into account the revenue generated by subscribers across platforms — including mobile, desktop computers, set-top boxes, and elsewhere," TechCrunch explains. "With 233 percent growth across the app stores, Sensor Tower's report rightly points out that Netflix's mobile revenue is far more pronounced than the revenue being generated by non-mobile platforms."
Netflix, which is making its first major foray into big budget feature films and plans to invest $6 billion in original content this year, beat its streaming rival Hulu, which experienced a 22 percent increase during the quarter.
According to Sensor Tower, some other subscription-based services also made the app charts: Pandora was #3 on the iOS App Store, while Spotify was #5 and YouTube was #6. "Across both the iOS App Store and Google Play combined," reports TechCrunch, "Pandora was #4, Spotify #7, YouTube was #10 and another streaming service, HBO Now, also popped up in the #9 slot."
Topics:
Analytics
,
App Store
,
Bright
,
Google
,
Google Play
,
HBO Now
,
Hulu
,
In-App Purchase
,
Internet
,
iOS
,
Martin Scorsese
,
Mobile
,
Movie
,
Music
,
Netflix
,
Original Content
,
Pandora
,
Sensor Tower
,
Smartphone
,
Spotify
,
STB
,
Streaming
,
Subscriber
,
Subscription
,
The Irishman
,
TV Show
,
Video
,
Will Smith
,
YouTube
,
YouTube Red