Machinima is the latest Internet company to attempt to launch an online TV video service. The company is looking to develop and license content, and operate as an over-the-top video subscription service, bypassing traditional pay TV providers. In 2012, Google led a round of investment with $35 million. Machinima is attempting to raise additional funds, and has recently started talks with studios for producing original content.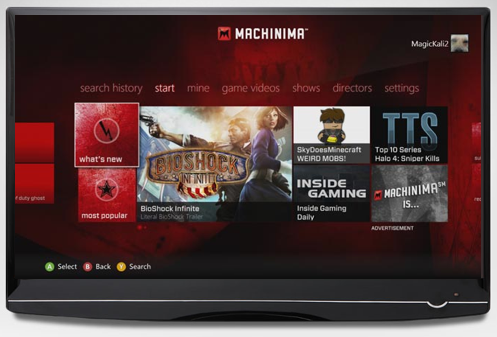 Machinima's content is based on video games and comics, targeting 18 to 34 year old men, or "fanboys." It wants to raise $80 million to create an online video subscription service with this audience in mind.
Potential partners or investors include Warner Bros. and Paramount Pictures, and they have already produced short videos for Machinima. Warner Bros. makes a live-action series based on the "Mortal Kombat" video game, while Paramount has a show called "Chop Shop," based on the black market for stolen cars in Los Angeles.
"The fanboy viewer is crazy, engaged and ravenous," says Machinima CEO Allen DeBevoise. "We intend to raise capital to be a company in the spirit of HBO and AMC, but in an over-the-top world."
"Machinima joins a growing number of tech or Internet companies intending to make programs or provide over-the-top video services, including Yahoo Inc and Amazon.com Inc," reports Reuters. "Google Inc, Apple Inc and Intel Corp are also considering starting cable TV-like services that sell subscriptions to existing cable channels."
The new subscription service it plans "is a bold attempt," suggests Keith Richman, executive of Break Media, whose ad-supported sites also target 18-to-34-year-old men. "It's a great demographic and I'm excited someone is trying to find a new way to monetize it. I'm just not sure the market is ready for it."
In June, the site was the seventh-largest channel on YouTube, with around 20 million viewers, according to comScore Video Metrix. Machinima has more than 8 million non-paying YouTube subscribers, according to YouTube.
Topics:
Allen DeBevoise
,
Amazon
,
Amazon Prime
,
AMC
,
Apple
,
Cable
,
Channel
,
Chop Shop
,
Content
,
Game
,
Google
,
HBO
,
Intel
,
Machinima
,
Mortal Kombat
,
Netflix
,
Online Video
,
OTT
,
Over-the-Top
,
Paramount
,
Pay TV
,
Satellite
,
Stream
,
Streaming
,
Video
,
VOD
,
Warner Bros.
,
Yahoo
,
YouTube