Microsoft announced missing financial forecasts on Thursday, putting the blame on the decline of the PC market. The company also acknowledged disappointing sales of its tablet computer, the Surface RT. Mobile devices are affecting PC sales as more consumers are buying tablets instead of PCs for movie watching and basic computing. Microsoft is still gaining slowly in sales to business customers, and has hopes for cloud services.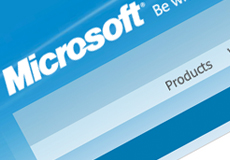 "For the fiscal fourth quarter that ended June 30, Microsoft, which is based in Redmond, WA, reported net income of $4.97 billion, or 59 cents a share, in contrast to a loss of $492 million, or 6 cents a share, in the period a year earlier," reports The New York Times. "Last year, Microsoft took a $6 billion write-down on a soured acquisition, wiping out its overall profit."
"We know we have to do better, particularly on mobile devices," said Amy Hood, Microsoft's CFO. The company reorganization announced last week was in part an attempt to position itself for big changes, including a shift to mobile devices, Hood continued.
Despite losses, Microsoft's sales to businesses continues to grow modestly as it said that revenue in its server and tools group increased 9 percent to $5.5 billion, and revenue in the business division, including Office applications, grew 14 percent to $7.1 billion. But its business division only grew two percent without delayed revenue from upgrade offers.
The Office applications are also threatened by Google and other cloud software services, forcing Microsoft to adapt to cloud provided services. If Office 365, the cloud's version of Office, were to perform at current levels for one year, it would generate $1.5 billion in revenue, according to Microsoft.
"The consumer has voted," said Barbara Coffey, an analyst at S&P Capital IQ. "I don't know that enterprise has yet. We've seen such a big shift to tablets. Microsoft just doesn't play in tablets at the same level that they do in PCs."