Attorney David Goodfriend is a law professor and founder of Locast, a free streaming service that enables audiences to get content from ABC, CBS, FOX, NBC and PBS, on almost any device, at any time, with high-quality video. If this sounds like Aereo, the startup supported by Barry Diller that offered streaming content to subscribers, you'd be partially right. But the Supreme Court determined Aereo violated copyright law, forcing its closure, and Goodfriend believes he's found a legal workaround: Locast is a nonprofit.
The New York Times reports that Goodfriend has the right background to pull off Locast: he's "a former media executive with stints at the Federal Communications Commission and in the Clinton administration." He conceived of Locast not just as a venture but also a test of the law, since the copyright code has an exemption for nonprofits.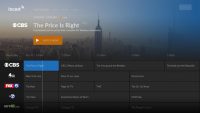 Goodfriend does not draw a salary and has funded Locast with a $700,000 high-interest loan. Locast opened its doors in January last year, and "the service now has about 60,000 users in Houston, Chicago, Boston, Philadelphia, Dallas and Denver as well as New York, and will soon add more in Washington, D.C."
NYT calls Locast "the most audacious media experiment in years," pointing out that, by giving away the TV content, Goodfriend is cutting into licensing fees that "major broadcasters charge the cable and satellite companies," which Kagan S&P Global Market Intelligence estimated to be $10+ billion this year.
Although this boils down to about $12 per month for consumers, "anything that encourages people to cut their cable cords is a challenge to the cable TV empire." Goodfriend is also challenging the industry on principle, stressing that free TV in exchange for free airwaves is a "social contract."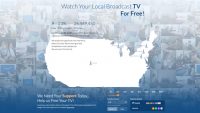 Locast comes at a time, said Nielsen, that about 16 million households are watching free over-the-air TV, up from 11 million eight years ago. Goodfriend is betting that a hefty percentage of the 90 million homes that pay for video content will be interested in Locast, and he said he constantly reminds people that, "you're supposed to get television for free." As an attorney, he's paid attention to the details of the law, installing signal equipment in every city where Locast operates.
Goodfriend welcomes a legal challenge, but University of Michigan law school professor Jessica Litman, who's an expert on copyright law and believes Locast is legal, gives the likely plaintiffs "50 percent chance for prevailing, only because they'll have the money for the lawyers." Still, she said, broadcasters may never take Goodfriend to court because they "may be wary of giving [his] start-up the spotlight of a big legal fight." "A loss for the networks is a lot more risky than a win would be," she added. Meanwhile, Goodfriend is "soliciting corporate sponsorships, and is in talks with Samsung to make Locast available on its smart TVs."
Topics:
ABC
,
Aereo
,
Barry Diller
,
Broadcast
,
Cable
,
CBS
,
Copyright
,
Cord Cutting
,
David Goodfriend
,
FCC
,
FOX
,
Jessica Litman
,
Kagan S&P Global Market Intelligence
,
Licensing
,
Locast
,
NBC
,
Nonprofit
,
OTA
,
Pay TV
,
PBS
,
Samsung
,
Satellite
,
Smart TVs
,
Streaming
,
Supreme Court
,
Television
,
University of Michigan