At CES 2017, LG Electronics introduced the first ATSC 3.0-enabled 4K UHD TVs for South Korea, which will begin deploying the new broadcast standard in anticipation of the 2018 Winter Olympics. The new 2017 models, which will go on sale in the spring, will have both ATSC 3.0 and ATSC 1.0 tuners. At CES, LG demonstrated a 65-inch LED TV with an embedded second-generation ATSC 3.0 tuner displaying 4K UHD HDR programming. The company also showed ATSC 3.0's "advanced electronic service guide" capabilities.
USA Today, in related news, reports that, at CES, LG and Samsung each sponsored the first major public displays of 4K UHD over-the-air broadcasts. LG, with independent station KHMP, and Samsung, with NBC-affiliate KSNV, broadcast 4K UHD images that were viewed on the manufacturers' TVs on the show floor. IHS Technology predicts that U.S. shipments of 4K TVs will double to 12 million in 2017.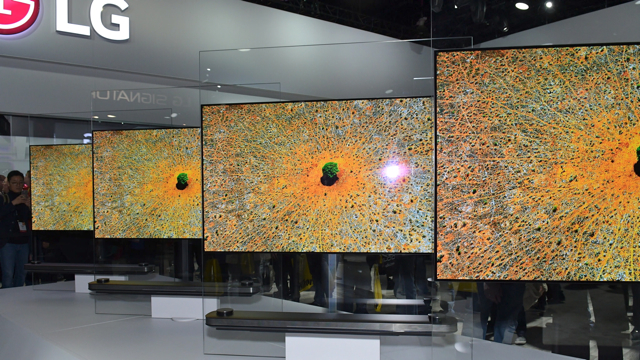 According to TV Technology, LG's EPG for its ATSC 3.0 TV includes "broadcast video-on-demand and a program guide delivered by the Real-Time Object Delivery over Unidirectional Transport, or ROUTE protocol, specified in the nearly finalized ATSC 3.0 standard." LG was one of the companies involved in the development of ATSC 3.0, especially the A/322 Physical Layer Standard, which merges broadcast and broadband.
Although the ATSC 3.0 standard hasn't been finalized, "a majority of [its] suite of standards" has; it is expected to be complete this spring. "LG has been collaborating with Korean broadcasters and the Korean government to support the Next-Gen TV launch this year," said LG Home Entertainment Company president Brian Kwon. "Early availability of ATSC 3.0 products in Korea also sets the stage to support U.S. broadcasters' Next-Gen TV rollout plans in 2018 and beyond."
CNET breaks down some of 4K UHD's specs: 3,840 x 2,160 resolution, with H.265 compression, "which ATSC and other group's testing found to be 35-50 percent more efficient than H.264 (which itself was a big leap from HD's MPEG-2)." It also notes that, "the audio side isn't being neglected either," with MPEG-H and Dolby AC-4 as "potential candidates." "We probably won't see Dolby Atmos specifically, but some version of object-based surround sound, with height channels, will likely be an option."
Other audio options might include different languages, different commentary tracks and "contouring," which bases the audio on the user and the device. ATSC 3.0's "most beloved feature," dynamic range limiting puts an end to loud commercials.
Most importantly, ATSC 3.0 is "created with the idea that most devices will be Internet-connected," and incorporates mobile "as an integral part of the package." The "hybrid" system transmits most content over-the-air, with other content sent over broadband, with IP transmission. "This opens up a number of options for broadcasters and content providers, not least encryption and access restriction," says CNET, "but also end-user-friendly features like video-on-demand."
Topics:
4K
,
ATSC 1.0
,
ATSC 3.0
,
Brian Kwon
,
Broadcast
,
CES 2017
,
Dolby AC-4
,
Dolby Atmos
,
EPG
,
H.264
,
H.265
,
HDR
,
IHS Technology
,
IP Transmission
,
KHMP
,
KSNV
,
LED
,
LG
,
LG Home Entertainment
,
Mobile
,
MPEG-H
,
NBC
,
OTA
,
ROUTE Protocol
,
Samsung
,
South Korea
,
UHD TV
,
Ultra HD
,
Video On Demand
,
VOD
,
Winter Olympics