Intel demonstrated the first version of its Project Alloy headset, a "wearable" computer that enables a combination of virtual and augmented realities, or "merged reality." At CES 2017, Intel chief executive Brian Krzanich announced Project Alloy will ship in Q4 this year, a fairly quick turnaround for a headset/project only first made public in August 2016. Project Alloy is evidence of Intel's effort to position itself as a leader in wearable computing, in which the device contains all its essential computing components.
TechCrunch says the Alloy will "feature an Intel seventh generation Core processor, a vision processor, fisheye lens and sensors, two RealSense cameras and an on-device battery, and will be built in conjunction with a number of partners," the latter as of yet unnamed. Intel recently acquired immersive sports VR company Voke and inked a three-year content partnership with Spanish soccer league La Liga.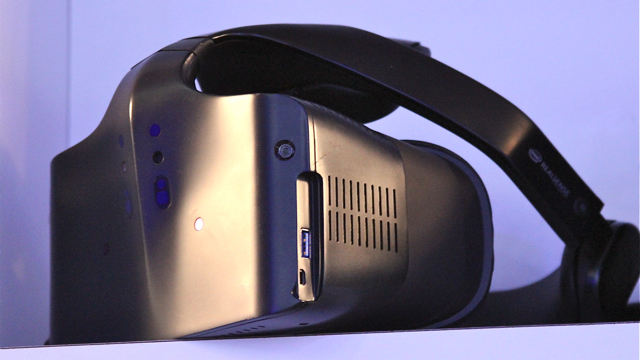 Other details on Project Alloy were thin, with no disclosed price or whether the first version will be aimed at consumers or developers. At CES, Intel presented a series of use cases where VR could "save time, money and lives," including a travel experience in Vietnam produced with HypeVR, a basketball game, and live VR footage of an industrial inspection of a solar plant in Nevada, shot from a drone.
ZDNet reports that Intel's new Compute Card, even smaller than its Compute Stick, is "designed to be added to connected devices as a module" that's easy to swap out for upgraded capabilities. The Compute Card includes Intel's seventh generation Kaby Lake CPUs and comes with built-in Wi-Fi and Bluetooth as well as a "USB-C plus extension" to connect it with products. Dell, HP and Lenovo are "lined up" to make products for the Compute Card.
Digital Trends also reports that Intel showed off "a sample of its 5G modem," which can attain speeds of over 5Gbps as well as "the ultra low latency and bandwidth aggregation sought by the industry as part of [the] transition to 5G." Intel plans to "have samples ready by the second half of this year, with full production starting soon after."
Topics:
5G Modem
,
Augmented Reality
,
Bluetooth
,
Brian Krzanich
,
Camera
,
CES 2017
,
Chip
,
Compute Card
,
Compute Stick
,
CPU
,
Dell
,
Drone
,
Fisheye Lens
,
HP
,
HypeVR
,
Intel
,
Kaby Lake
,
La Liga
,
Lenovo
,
Merged Reality
,
Processor
,
Project Alloy
,
RealSense
,
Sensor
,
Sports
,
USB-C
,
Virtual Reality
,
Voke
,
Wearable Computing
,
Wi-Fi