At CES 2018, Kodak showed its new Kodak Pixpro Orbit360 4K camera, debuted in August. Kodak is positioning the camera as a next-generation 360-degree camera for video and still photography that features built-in processing. The camera has two hemispherical lenses, one on either side of its rectangular body. One lens is 155 degrees and the other is 235 degrees; the two lenses work together to create the 360-degree, 4K image that can be live-streamed or uploaded via Wi-Fi to Facebook, YouTube and other platforms.
Digital Trends reports that the new camera is available in "one of two accessory-rich packages, each of which retails for $500." "There's a lot going on with VR and augmented reality, and we're starting to see all sorts of different applications for 360-degree content," said JK Imaging Ltd/Kodak vice president of marketing Paul Meyhoefer. "In the future, [these cameras] will only get better and better."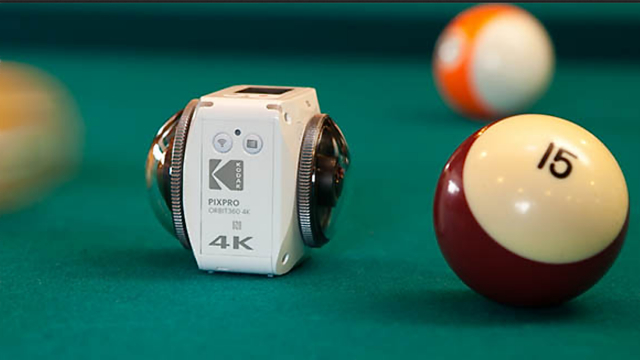 Kodak already has other new products in development, which will be released "at an undisclosed date in 2018." The first, in prototype, is the Kodak 3D 360 VR camera, which "functions much like the aforementioned Orbit360, only the device's versatile design allows you to use it as [a] 3D camera." In this camera, the lenses fold out, "resulting in a 180-degree, stereoscopic lens."
Meyhoefer says this camera is aimed at "a range of consumers, particularly gamers, who will likely want to create both 360 and 3D content." "As the technology [behind 360-degree cameras] gets better and easier to use, consumers will become more engaged with creating their own 360 content," he said.
The second camera is for professionals: the 360 Pro VR camera uses three lenses, which result in a larger file and higher resolution. This camera is reportedly set to launch "in either the third or fourth quarter of 2018 and sell for around $1,500."
Topics:
360-Degree Video
,
3D
,
4K
,
Augmented Reality
,
Built-In Processing
,
Camera
,
CES 2018
,
Facebook
,
Gamer
,
JK Imaging
,
Kodak
,
Kodak 360 Pro VR
,
Kodak 3D 360 VR
,
Kodak Pixpro Orbit360
,
Las Vegas
,
Lenses
,
Live Streaming
,
Paul Meyhoefer
,
Photo
,
Pixpro
,
Prototype
,
Stereoscopic
,
Video
,
Video Game
,
Virtual Reality
,
Wi-Fi
,
YouTube