Google introduced a new report titled "Quantifying Movie Magic with Google Search" that details how effective Google searches can be in regards to predicting the future box office success of upcoming movies. If proven accurate, Google could join forces with traditional methods such as surveys, tracking polls and other analytic services. The company claims it can predict opening weekend box office revenue with up to 94 percent accuracy.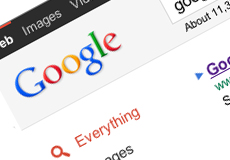 "As moviegoers are increasingly turning to search to learn more about various titles, we have been able to identify general search patterns that give us insight into awareness and intent levels," writes Andrea Chen, Google's principal industry analyst for media and entertainment in a recent Google AdWords blog post.
Based on 99 of the top 2012 box office hits, Google identified the following about the way people search for movies:
1) The decision to see a movie is a very highly-considered research process.
2) Trailer-related search trends four weeks out from a movie release provide strong predictive power for opening weekend box office revenue.
3) Opening weekend prediction modeling shows high correlation between search volume/paid click volume and box office revenue.
4) Moviegoers search differently for big movie releases.
5) Forty-eight percent of moviegoers decide what film to watch the day they purchase their ticket.
"In the seven day window prior to a film's release date, if a film receives 250,000 search queries more than a similar film, the film with more queries is likely to perform up to $4.3M better during opening weekend," explains Chen. "When looking at search ad click volume, if a film has 20,000 more paid clicks than a similar film, it is expected to bring in up to $7.5M more during opening weekend."
"While we see more search volume in weeks closer to the release week, the Google and YouTube search patterns four weeks out from the release have the strongest link to moviegoer intent," Chen adds. "At four weeks out, trailer search volume on Google coupled with both the franchise status of the movie and seasonality can predict opening weekend box office revenue with 94 percent accuracy."
Related Stories:
Now You Can Google Which Movies Will Be a Hit, Digital Trends, 6/8/13
To Predict the Next Box Office Hit, Look at Google Movie Trailer Searches, Wired, 6/6/13