At its annual developers conference in San Francisco today, Apple is expected to unveil its ad-supported streaming music service. The company is also expected to introduce new Mac notebooks and a redesigned iOS featuring a simpler interface. Apple's new Internet radio service will compete with online music services such as Pandora, Rdio and Spotify. The move into streaming music could also help it compete with rival Google, which has been successful with robust Internet services.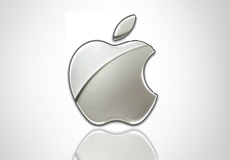 "For the labels — suffering from the collapse of the CD market and stagnating download sales — the ad-supported service represents a chance to boost revenue by pushing music streaming further into the mainstream through the iTunes Store's hundreds of millions of users," suggests The Wall Street Journal.
"For Apple, streaming is a shot at regaining an edge in digital music and beating back competitors trying to colonize the iPhone and iPad with other software that could make their users less loyal over time," adds WSJ.
The new streaming digital music service is expected to be available only in the U.S. The free service will be supported by text and audio ads from the company's iAd service and will include "Buy" buttons to help drive downloads.
During the 5-day Apple Worldwide Developers Conference, the company is expected to announce updates to its line of MacBook Air laptops, the latest versions of its desktop operating system, and a preview of its iOS 7 mobile operating system
"The new operating system will be the first mobile software system made under the company's lead hardware designer, Jony Ive," notes The New York Times. "Under his direction, elements like the yellow-notepad inspired Notes app and the leather borders in the Calendar app for the iPad are expected to be removed from the software."
According to The Los Angeles Times, we should not expect to see the iPhone 5S, iPad 5, the rumored iWatch or "the mythical Apple TV."
ETCentric will have news from Apple's WWDC this week as it unfolds.