Intel executives have spoken with Amazon and Samsung in search of a strategic partner willing to back its Web-based pay TV service that it hopes to launch by the end of 2013. If Intel cannot find a backer to help fund and distribute the service, it is possible that the plan will be dissolved. Earlier in the year, Intel executive Erik Huggers disclosed that the company plans to sell an OTT pay service that includes a wide array of broadcast and cable TV networks.
While companies such as Google, Apple and Sony have considered a similar TV service, none have actually committed to the idea.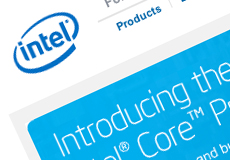 "But Intel has yet to finalize a deal with a major TV programmer," reports AllThingsD. "And new CEO Brian Krzanich, who took over the company in May, has made a point of striking a tentative tone when discussing Intel's TV ambitions."
"We're being cautious. We're experts in silicon, we're experts in mobility, in driving Moore's law," Krzanich said in a June interview. "But we are not experts in the content industry and we're being careful."
Some 300 employees, most from outside Intel, are working on the TV project under Huggers. Furthermore, Intel is currently testing a version of its service with 3,000 employees. Intel plans to market the service under a new OnCue brand.
"OnCue is supposed to work like a traditional pay TV that competitors like Comcast and Verizon provide, except that it's delivered over the Web," explains the article. "Intel also plans on offering a couple of differentiating features, like a slicker user interface, and a cloud-based DVR that would automatically provide access to any program that had aired in the last 3 days, without requiring users to save a specific show."
However, none of Intel's plans are feasible without programming deals, support from Intel's executives, and some sort of deal with a backer such as Amazon or Samsung to provide funding and distribution.
Samsung is already a leader in smart TVs, and Amazon is building a presence in Web video, so either company would be a helpful backer to Intel.