Google announced that it is changing its search engine to handle more complex queries. This change has required one of the greatest modifications to the company's search algorithm since 2000. Google will now focus on comprehending the meanings of searches as well as the relationships of words, as opposed to simply matching keywords. One reason for the change relates to the fact that users are asking longer and more complex questions.
"They said, 'Let's go back and basically replace the engine of a 1950s car,'" said Danny Sullivan, founding editor of Search Engine Land, an industry blog. "It's fair to say the general public seemed not to have noticed that Google ripped out its engine while driving down the road and replaced it with something else."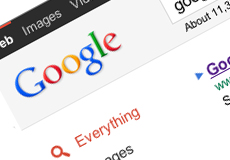 "Google announced the new algorithm, called Hummingbird, at an event to celebrate the search engine's 15th birthday. The event was held in the garage Google's founders rented when they started the company," reports The New York Times. "Google revealed few details about how the new algorithm works or what it changed. It said it made the change a month ago, though consumers may not have noticed a significant difference to search results during that time."
Google originally matched search words to the words on a Web page, but now with Hummingbird, the search engine can better interpret words and display more precise results.
"Google had taken smaller steps toward this," notes NYT. "The Knowledge Graph, introduced last year, understands the meanings of and relationships between things, people and places, which is known as semantic search. It is why a search for Michelle Obama, for instance, shows her birthday, hometown and family members' names, as well as links to related people like Hillary Rodham Clinton and Joseph R. Biden Jr."
"The outcome is not a change in how Google searches the Web, but in the results that it shows. Unlike some of its other algorithm changes, including one that pushed down so-called content farms in search results, Hummingbird is unlikely to noticeably affect certain categories of Web businesses, Mr. Sullivan said. Instead, Google says it believes that users will see more precise results."
Additionally, voice is a much bigger feature for Google's upgraded search app for Apple devices, putting it into direct competition with Apple's Siri.
"Another upgrade gives Google the ability to compare different things or concepts," adds Technology Review. "For example, asking the search app to 'compare coconut oil versus olive oil' produces a table contrasting their nutritional qualities. Google selects the most relevant criteria to compare things. Asking for a comparison of two celestial bodies would see it use properties such as brightness, age, weight, and orbital period, for example."
Topics:
Algorithm
,
Apple
,
Clinton
,
complex
,
Efficient
,
Engine
,
Garage
,
Google
,
Hummingbird
,
Intelligent
,
Interpret
,
key word
,
Keyword
,
Knowledge Graph
,
precise
,
Queries
,
Query
,
Recognition
,
Relationship
,
Search
,
Search Engine
,
Search Engine Land
,
Semantic
,
Siri
,
Sullivan
,
Technology
,
Voice
,
Web