Instagram co-founders Kevin Systrom and Mike Krieger are back with a personalized news feed called Artifact that that uses artificial intelligence to pattern users' interests and the friends that most likely want to discuss them with you. The new app — whose name combines articles, facts and artificial intelligence — opened a public waiting list this week and is available on iOS and Android. The Verge calls it "TikTok for text," adding that "you might also call it Google Reader reborn as a mobile app or maybe even a surprise attack on Twitter."
Artifact's home screen offers a feed of popular articles curated from participating publishers, including The New York Times as well as more modest niche blogs. Machine learning develops insight into topics of interest to a particular reader, serving similar posts in the future.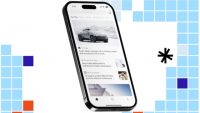 While virtually all of the top social apps have this algorithmic capability, their feeds are influenced, to greater or lesser extent, by commercial interests — what they're trying to sell you, or influencers it behooves them to promote. Systrom says on The Verge that Artifact differs in that it will focus on "graphs that are learned rather than explicitly created."
To do this, Artifact leverages a 2017 Goolgle AI breakthrough called the Transformer, which allows systems to understand natural language using fewer inputs than what was previously required. Transformer technology is credited with propelling machine learning forward very quickly (putting the "T" in ChatGPT).
It also created new opportunities for social networks, writes The Verge, explaining that early iterations "showed you stuff your friends thought was interesting — the Facebook model. Then they started showing you stuff based on the people that you chose to follow, whether you were friends or not — the Twitter model.
While early users will get only a centrally ranked content feed, two more features are expected to become hallmarks of the app: "a feed showing articles posted by users that you have chosen to follow, along with their commentary on those posts" and "a direct message inbox so you can discuss the posts you read privately with friends," The Verge reports.
After eight years under Facebook's ownership, Systrom and Krieger left Instagram in September 2018, writes CNET, noting that "since their departure, the duo also launched a website, in 2020, to track the spread of COVID-19."