Spotify reported strong net growth of 33 million new monthly active users but another quarterly loss for Q4 2022, culminating a period during which the company invested heavily in podcasts. The news came amidst layoffs and an announcement that the company's chief content and advertising officer Dawn Ostroff will depart. Spotify CEO Daniel Ek conceded with regard to the aggressive podcast growth that he "probably got a little carried away and overinvested relative to the uncertainty we saw shaping up in the market." Given the result — 20 percent global user growth, to 489 million MAUs — Ek concluded "I would do it again."
Ek's 2023 focus is on tightening spending and optimizing efficiencies, a strategy that went over well on Wall Street, sending the Stockholm-based Spotify's shares up by around 10 percent, despite a Q4 loss of just under $295 million.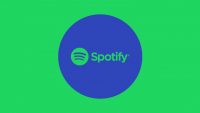 Revenue was up by 18 percent for the three month period ending December 31, to $346 billion, just missing expectations (which Spotify said in an earnings release it would have exceeded but for fluctuations in foreign currency exchange rates). The company also announced it has surpassed 200 million global subscribers.
Paid "subscriptions, the largest top-line contributor, rose 18 percent," reports The Wall Street Journal, noting that "ad revenue rose 14 percent." Advertising, which has taken on particular significance for the company with its investment in podcasting, accounted for "14 percent of total revenue for the period."
Ek is clearly proud of his company's podcasting performance, noting that when Spotify expanded into the sector four years ago Apple had been the dominant force for two decades. Insider Intelligence pegs Spotify as the dominant podcasting platform for 2022 and 2023, with YouTube vying with Apple for second place.
TechCrunch reports that Spotify's success with its "Wrapped" year-end review feature designed for social sharing "may be pushing the company toward building more social experiences directly into its mobile app." Spotify has for months been testing a "Friends" tab for mobile, and on the investor call Ek "didn't shoot down the idea of Spotify becoming a more social platform."
Topics:
Ad Revenue
,
Advertising
,
App
,
Apple
,
Audio
,
Daniel Ek
,
Dawn Ostroff
,
Earnings
,
Google
,
MAU
,
Mobile
,
Music
,
Paid Subscription
,
Podcast
,
Social Media
,
Social Sharing
,
Spotify
,
Stock Price
,
Streaming
,
Streaming Music
,
Subscription
,
Wall Street
,
Wrapped
,
YouTube