Instagram launched IGTV last year with plans to exclusively offer long-form vertical videos for mobile devices. Landscape video uploads would not be included. However, enthusiasm on the part of video creators failed to gain traction, and now IGTV is changing its vertical video policy. As of last week, users can upload horizontal landscape videos that can easily be viewed full-screen by turning a mobile device on its side. "Ultimately, our vision is to make IGTV a destination for great content no matter how it's shot so creators can express themselves how they want," the company explained.
"In many ways, opening IGTV to more than just vertical videos is similar to when we opened Instagram to more than just square photos in 2015," added Instagram via its press release. "It enabled creativity to flourish and engagement to rise — and we believe the same will happen again with IGTV."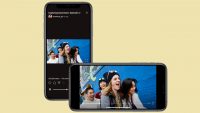 IGTV is available as a standalone app or via its hub within the Instagram app. While it is still new, the platform's numbers are relatively low and it has yet to post any high-profile must-see content. However, Instagram remains popular and IGTV's transition to allowing traditional horizontal video could generate more interest from creators and even introduce repurposed YouTube content.
"Sensor Tower estimates just 4.2 million installs to date for IGTV's standalone app, amounting to less than half a percent of Instagram's billion-plus users downloading the app," reports TechCrunch. "It saw 3.8 times more downloads per day in its first three months on the market than last month."
Instagram has already made changes to IGTV designed to spark interest in the platform. "It started allowing creators to share IGTV previews to the main Instagram feed that's capped at 60 seconds," notes TechCrunch. IGTV has also been "redesigned to ditch its category tabs for a central feed of videos that relies more on algorithmic recommendations like TikTok and a two-wide vertical grid of previews to browse like Snapchat Discover."
Topics:
Android
,
Discover
,
Facebook
,
Freeware
,
Google
,
IGTV
,
Instagram
,
Internet
,
iOS
,
Landscape Mode
,
Mobile
,
Mobile Video
,
Photo
,
Portrait Mode
,
Recommendation
,
Sensor Tower
,
Smartphone
,
Snapchat
,
Social Media
,
Social Video
,
TikTok
,
Video
,
YouTube