A team from Pixar talked about the massive amount of work the company puts into "localization" or "regionalization" of every film they make. "John Lasseter, from the early days, placed a high importance on creating content for international markets, without the disruptive experience of subtitles or language they don't understand," said Pixar executive Cynthia Lusk. "That's been a priority for the studio since 'Toy Story.'" Lusk said that they regard each movie as a snowflake, with a different approach from title to title.
First, the Pixar team was very clear on what localization is not for the company: simple dubbing or subtitles. "Big ugly yellow subtitles — we hate that," she said. "It's our preference not to do that. Translating our scripts and picture is part of it, but we're talking about translating the experience. A localized experience is an immersive experience, with picture, audio, and subtitles only if we have to."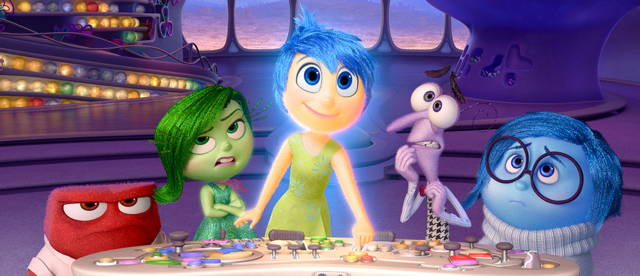 Up until now, Pixar has been able to make completely localized versions for 15 languages, and a total of 44 dubbed versions of each movie, "from Arabic to Ukrainian." "But if Estonia wanted a [localized] movie, it was too expensive," said Lusk. "Now that it was all digital, that allowed us to provide a low-cost version in all these 40 different language versions."
Although, says Pixar post supervisor of home entertainment Eric Pearson, the company had been working with digital masters since 2006. By 2014, film was truly. Then came "Inside Out." "It's a complex movie, with lots of fast talking, characters talking over each other, a great amount of intensity," Lusk said. "There's also quite a bit of texted graphics."
For "Inside Out," 55 shots needed to be localized, including changing the language on movie posters, headlines of newspapers, and even some more subtle items, such as changing the game on a man's internal TV set from hockey to soccer, for Spanish-speaking markets. And in a scene where Riley throws a temper tantrum when cajoled to eat broccoli, the Japanese market requested another vegetable since, apparently, broccoli is universally loved.
From file-based masters, the Pixar team has adopted IMF [Interoperable Master Format, for the file- based interchange of multi-version, finished audio-visual works] as "an extension of this idea."
"Once we can distribute the digital masters to our partners, and they can replicate that on a storefront, we can start providing the same experience in the theater, in the home," said Pearson. Lusk added, "We're working closely with partners to link arms and move forward into this opportunities for the future."
Related:
Leon Silverman Hands Reins of Hollywood Professional Association to Seth Hallen, Press Release, 2/18/16
Hollywood Post Alliance Gets New Leaders – And New Name, Variety, 2/17/16
Topics:
Audio
,
California
,
Cynthia Lusk
,
Dubbing
,
Eric Pearson
,
File-Based
,
Film
,
Graphics
,
Hollywood Post Alliance
,
Hollywood Professional Association
,
HPA Tech Retreat
,
IMF
,
Indian Wells
,
Inside Out
,
Interoperable Master Format
,
John Lasseter
,
Localization
,
Marketing
,
Movie
,
Pixar
,
Post Production
,
Posters
,
Production
,
Regionalization
,
Subtitles
,
Toy Story
,
Translation