Amazon Studios' production "Mozart in the Jungle" is shot in 4K UHD and released in both standard dynamic range (SDR) and high dynamic range (HDR) versions. At an HPA Tech Retreat panel, "Mozart in the Jungle" associate producer Mike Weiss and Technicolor vice president Mark Smirnoff talked about the "snowflake" production of this Golden Globe-winning OTT series. "There are so many more deliverables and things that can catch you off guard, it really is a snowstorm," said Weiss.
Weiss noted that, "although all the episodes go online on one day, we have to think like a traditional network because the file-based system has created so many more deliverable steps." "Creating an HDR show is creating an entirely new show," he said. "It definitely creates a bigger barrel of stuff to look after." Smirnoff agreed: "Everything is the same but different."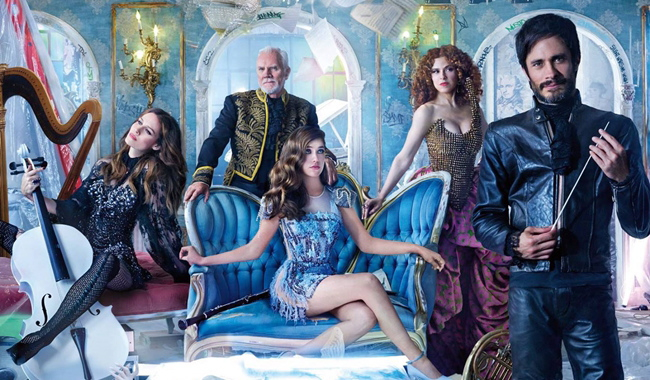 Weiss noted that the producers of OTT content are like "the first soldiers on the beachhead" with regard to new technologies such as 4K UHD and HDR. "What sets OTT apart is that it has fewer rules to follow on the distribution front, so it can create deliverables sooner than its competitors," added Smirnoff.
"Mozart in the Jungle" is shot in 4K with the Sony F55 camera, and has a "full 4K post," says Smirnoff. The show is shot mostly in New York City, although two episodes of the second season were shot in Mexico City. Technicolor handled dailies in New York, with the footage shipped to Los Angeles, where editorial was located.
The EDL list was used for the conform process from the raw media, using an Autodesk Flame Premium workflow. Color correction, by colorist Tim Vincent, relied on Autodesk Lustre.
"We'd work raw through editorial and at the point of editorial, we'd render out 10-bit 4K DPX, grade and from that point forward, still in 4K, we'd monitor in proxy level," explained Smirnoff.
The primary version is SDR, he said. "There's discussion about that, on the creative front and the Amazon front," he said. "When HDR becomes more mainstream we'll go that direction. It's philosophical and technology question. But we stuck to SDR because it was quicker to set up and monitor and approve SDR."
Once Technicolor gets approval on the SDR version, they "turn on the spigot for the HDR," said Smirnoff. "We take the un-color-corrected 10-bit DPX files and bring it forward into the P3 colorspace and trim for HDR," he added. "All the while — and this is an important point — we try to maintain the creative intent. HDR can make a different statement, but we're not trying to create something that's uniquely, completely different, but what is intended by the director, DP and show creators."
"Colorists are now getting a little more used to the process," said Smirnoff. "Season 1 was the first show in HDR. After ten episodes of Season 1 and where we were then in the HDR world, we were able to go through Season 2 a lot faster. Next year will be a whole different recipe."
Related:
Leon Silverman Hands Reins of Hollywood Professional Association to Seth Hallen, Press Release, 2/18/16
Hollywood Post Alliance Gets New Leaders – And New Name, Variety, 2/17/16
Topics:
4K
,
Amazon Studios
,
Autodesk
,
Colorist
,
DPX
,
Dynamic Range
,
Editorial
,
EDL
,
Flame Premium
,
Golden Globe Award
,
HDR
,
Hollywood Post Alliance
,
Hollywood Professional Association
,
HPA Tech Retreat
,
Indian Wells
,
Los Angeles
,
Lustre
,
Mark Smirnoff
,
Mike Weiss
,
Mozart in the Jungle
,
New York City
,
OTT
,
P3 Color Space
,
Production
,
SDR
,
Sony F55
,
Technicolor
,
Tim Vincent
,
UHD