In the ongoing journey to integrate high dynamic range (HDR) into U.S. movie theaters and homes, a panel at this week's HPA Tech Retreat in Palm Desert, California explored the topic from several angles. Everyone knows that HDR is much more than a single format: HDR10, HDR10+, Dolby Vision, HLG (hybrid log gamma) all compete in the marketplace. But Pat Griffis, Dolby Laboratories vice president technology in the office of the CTO and a SMPTE fellow, wanted to clarify the basic definition of HDR as more accurately seen as color volume.
"Color volume is the 3D palette of all the colors that can be reproduced at all allowable intensities," explained Griffis. "What's missing [in our discussion of HDR] is how bright each of the colors are, and that's where the three dimensional color volume comes in. HDR has taken the lid off Pandora's box and made many more colors available, not just contrast but brightness."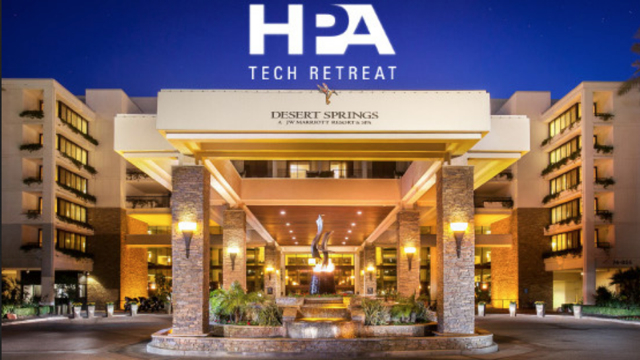 Sony Pictures Entertainment chief technology officer Don Eklund noted that the market is confused about HDR because "there are a lot of different ways to get from Point A to Point B." "Ultimately we're all here in various parts of the ecosystem to deliver content to consumers," he said. "We should as an industry experiment with what we're providing so we know what the consumer is seeing."
But even the HPA audience has been relatively slow to adopt HDR; a quick poll of the audience showed that fewer than 50 percent watched the 2018 Winter Olympics in HDR. "The difficulty in selling it to the consumer is that we haven't yet gotten him to understand that it's a new TV system," said Eklund.
BBC Worldwide production standard liaison Andy Quested said reference displays for HDR and closed captions are unresolved issues. "Will those captions stare out at you?" he asked. "You can get the wrong color and not distinguish between actors."
Samsung Research America vice president of industry relations Bill Mandel noted that, "calibration needs to be worked on." "It's very challenging," he said. "You have to selectively calibrate HDR screens, and the signal source exceeds the capabilities."

Moderator Seth Hallen, Pixelogic senior vice president and HPA president, asked the panelists to predict HDR's future. Eklund pointed out that the lack of HDR content is a hurdle. "We have some content that looks great in HDR, but not every filmmaker wants to push the limit," he said. "They're looking to tell stories and take you out of reality. But with live content, it's a no brainer. You really missed something if you didn't see the Olympics in HDR."
Griffis described shock at seeing Sony's 10,000 nit TV at CES. "We debated 20,000 nits but settled on 10K, thinking we'd never see it in our life time," he said. And he reminded the audience that HDR is "not about wearing sunglasses." "Larger color volume for archive purposes is the mantra," he said.
Topics:
2018 Winter Olympics
,
3D
,
Andy Quested
,
Archival
,
BBC
,
Bill Mandel
,
Brightness
,
Calibration
,
CES 2018
,
Closed Captioning
,
Color Volume
,
Contrast
,
Dolby
,
Dolby Vision
,
Don Eklund
,
HDR
,
HDR10+
,
High Dynamic Range
,
HLG
,
HPA
,
HPA Tech Retreat
,
Movie
,
Palm Desert
,
Pat Griffis
,
Pixelogic
,
Samsung
,
Seth Hallen
,
SMPTE
,
Sony
,
Television