GoPro has become a leader in small, rugged, low-cost video cameras especially useful for extreme sports, documentaries and reality TV. User-generated content recorded on GoPro cameras has exploded on YouTube and other sites. Millions of professional and amateur users have posted videos online, often proudly labeling content with the term "GoPro," which has become synonymous with action footage. Now GoPro has plans to become a media company.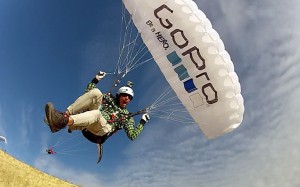 "I think GoPro is producing some of the best short-form content out there today," said Nicholas Woodman, the company's founder and chief executive. "There's a phenomenal opportunity for us to leverage GoPro as a media brand."
GoPro joins Red Bull and other companies in sponsoring athletes and extreme sporting events to help promote their products.
"But GoPro has a long way to go in video to catch up to Red Bull," suggests The New York Times. "The energy drink maker has 3.3 million subscribers to its YouTube channel and over 700 million views for its videos, compared with 1.7 million subscribers for GoPro's channels and over 400 million views. And Red Bull TV, the company's entertainment network, recently became available on Apple TV. Those are the types of deals GoPro is now also after."
"It's a tough environment," said Michael J. Wolf, managing director of media consulting firm Activate. "If they can truly stand for action sports, and they can have quality video that people want to watch, then they can succeed."
"GoPro has just begun to venture beyond YouTube, where its biggest audience is found, to seek out new distribution channels for its content," explains the article. "In October, Virgin America introduced a GoPro channel on its in-flight entertainment system featuring a two-and-a-half hour string of GoPro videos that are refreshed every two months. In its latest deal, the company reached an agreement with Microsoft for a GoPro channel that will be available to users of Microsoft's Xbox game consoles."
The company is actively looking at concepts with larger TV networks and possible co-productions.
GoPro has yet to specify whether its media plans will include selling advertising. The current videos primarily advertise the GoPro cameras. "Even the videos its customers create and upload to YouTube themselves help spread the company's marketing message by showing, in vivid detail, the exhilarating moments people can capture with the devices," notes NYT.
For more info on the company's media plans, check out this 4-minute NYT video report.
Topics:
Activate
,
Ads
,
Advertising
,
Apple
,
Apple TV
,
Brand
,
Cam
,
Camera
,
Channel
,
Console
,
Content
,
Distribution
,
Doc
,
Documentary
,
Drink
,
Energy
,
Extreme
,
Flip
,
Game
,
Gaming
,
GoPro
,
Microsoft
,
Network
,
Phone
,
produce
,
Production
,
Reality
,
Red Bull
,
Rugged
,
Short Form
,
Smartphone
,
Sponsor
,
Sports
,
Stream
,
Streaming
,
Subscribe
,
Subscriber
,
Television
,
TV
,
UGC
,
User
,
Video
,
Virgin
,
Wolf
,
Woodman
,
Xbox
,
YouTube