Following a five-month search, Satya Nadella has officially been named Microsoft's third CEO in the company's nearly four-decade-long history. Yesterday, the 22-year Microsoft vet was named to succeed Steve Ballmer. In addition, co-founder Bill Gates will vacate his chairman's post to become technical adviser to Nadella and help shape Microsoft's product strategy moving forward, including a focus in the mobile space. Gates is not expected to play a role in day-to-day management.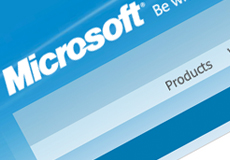 "The board, however, decided to give Mr. Nadella the strong signal that he is solely in control and accountable as the CEO," reports The Wall Street Journal. "The directors weighed but ultimately rejected selecting an 'executive' chairman, whether it would be Mr. Gates or [Symantec CEO John] Thompson. They decided the new chief executive's 'boss should be the full board, rather than a single person on the board,' said a person familiar with the situation."
Both Gates and Ballmer will still be major shareholders and remain on the board. Thompson is also expected to help mentor Nadella.
Microsoft claims that Nadella asked Gates to consider the advisory role. "I'm thrilled that Satya asked me to step up," said Gates.
"But other people close to the company believe the arrangement was also favored by Mr. Gates, who had already stepped up activities at the company since Mr. Ballmer announced plans to step down in August," notes the article.
The new CEO sent a memo to company employees yesterday, in which he shared some of his personal and professional history, general philosophy and thoughts on an evolving industry being impacted by software, mobile technologies and the cloud. In a related article, The Wall Street Journal has posted Nadella's letter along with a running commentary.
Topics:
Advise
,
Adviser
,
Advisory
,
Appoint
,
Appointed
,
Ballmer
,
Bill
,
Chief
,
Corporate
,
Director
,
Employee
,
Executive
,
Founder
,
Gates
,
Letter
,
Memo
,
Mentor
,
Microsoft
,
Mobile
,
Nadella
,
name
,
Named
,
Officer
,
Philosophy
,
Phone
,
Product
,
Satya
,
Search
,
Share
,
Shareholder
,
Smartphone
,
Software
,
Steve
,
Strategy
,
Symantec
,
Tablet
,
Thompson
,
Wall Street