Media today requires more bandwidth, and that means more efficient compression. Ultra HD or 4K, wider gamut for more color choices, and HDR (high dynamic range) all require a bigger pipe and better compression. Same goes for HFR (high frame rate) — anything above 30 fps, for movies and games — and of course all that video streaming that everyone is doing. Up until now, H.264 has been the leading contender, but now Google is pushing its VP9 technology hard to play catch-up. H.265 and VP10 are just over the horizon.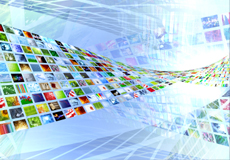 Google's VP technology is free to use, which opens the door to wide adoption, but it's still the underdog to the widely accepted H.264, says CNET. But the successor to H.264, HEVC or H.265, is running into resistance due to its patent fee structure. "What's shaping up is a potential battle for how video gets compressed and distributed," says CNET.
When content just played back on TV sets, figuring out a compression scheme didn't involve too many parties. Now, it's important to have everyone from HBO to YouTube to smartphone and TV set manufacturers on board, to figure out a single-use standard.
Google's VP9 bests H.264 in one important aspect: it "roughly halves the network capacity needed to send video of a certain quality." Google product manager James Bankoski reports that Google is trying to cut that capacity in half again, with its upcoming VP10 technology, says CNET.
Cisco Systems and Mozilla, which have launched their own compression alternatives, offer more competition. Google's response has been to come to market as quickly as possible with its next iteration; engineers are already adding VP10 changes to the software. "It'll take some time after that for Google's hardware and software partners to bring their VP10 support to market after that," says Bankoski.
Still, almost all the 4K TVs in stores this year are outfitted with VP9 hardware decoding for 4K, says Google product manager Jani Huoponen, and YouTube began streaming VP9 video in late 2013. But neither Microsoft nor Apple has, meaning it's far from a slam dunk that V10 will be the winning compression scheme.
Related:
Tech's Biggest Names Unite to Create a New Video Format, Wired, 9/1/15
Topics:
4K
,
4K TV
,
Apple
,
Cisco Systems
,
Color Gamut
,
Compression
,
Google
,
H.264
,
H.265
,
HBO
,
HDR
,
HEVC
,
HFR
,
High Dynamic Range
,
High Frame Rate
,
James Bankoski
,
Jani Huoponen
,
Microsoft
,
Mobile Phone
,
Mozilla
,
Smartphone
,
Streaming
,
TV Set
,
UHD
,
Ultra HD
,
Video
,
Video Compression
,
VP9
,
VP9 Codec
,
YouTube