Google is shutting down the Stadia division that makes exclusive games in order to "focus on building on the proven technology of Stadia as well as deepening our business partnerships," said Stadia vice president and general manager Phil Harrison. He added that the plan is to expand "efforts to help game developers and publishers take advantage of our platform technology and deliver games directly to their players." Alphabet debuted Stadia in November 2019 to compete with major video game console companies.
Bloomberg reports that the original goal was to reach beyond traditional gamers and, since Stadia allows players to use Android phones and Chromecast apps, enter China and India, markets where consumers can't afford Sony PlayStations or Microsoft's Xbox. Going forward, "Stadia will continue to provide titles from other developers but will no longer supplement them with its own slate of games as Google originally planned."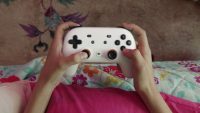 As a result of the new focus, gaming news site Kotaku reports that "about 150 people will lose their jobs as part of the plans, which include shutting offices in Montreal and Los Angeles." Harrison stated that Google will try to place those workers elsewhere. Executive Jade Raymond is leaving Google as part of the restructuring.
Bloomberg notes that Stadia "underperformed" as a result of its pricing strategy, which included an initial cost of $130 to buy a "package to get started," followed by purchase of individual titles "rather than package games in a subscription service like Netflix or Xbox Game Pass."
CNN explains that Google is shutting down Stadia Games and Entertainment, the internal game development service, because, as Harrison said, "creating best-in-class games from the ground up takes many years and significant investment, and the cost is going up exponentially." The unit, in collaboration with Google partners, released "Gylt," "Outcasters" and "Submerged: Hidden Depths."
"Big Tech sucks at gaming, it's just not in their DNA," said NYU Stern School of Business lecturer Joost van Dreunen. "Google just hasn't found the proof points in the last 18 months that would justify continuing down this very expensive track. It makes no sense for them to chase a losing hand."
CNN points to two other "notable flops" from Big Tech: Microsoft's live-streaming service Mixer and Amazon's "Crucible," that company's attempt to create a "blockbuster, free-to-play game in a similar genre as 'Fortnite'."
Users can continue to play games on Stadia and Stadia Pro, stated Harrison, who added the company will "continue to bring new titles from third parties to the platform." But van Dreunen predicted that Stadia won't "be a huge competitive offering compared to the more conventional consoles." "I think it's going to be more buffet style," he said. "But you have to wonder, without marquee titles in your catalog, what's the identity of a Google Stadia?"