Amazon has unveiled plans for its HQ2 complex to be located in northern Virginia and accommodate about 13,000 employees with "room for more." The "centerpiece" is the Helix, a 350-foot tower featuring two spiraling walkways with native plants and trees that twist to the building's highest point. The development, which highlights an "outdoors theme," also includes three 22-story office buildings, smaller retail buildings in a woodsy setting, an outdoor amphitheater, a dog run and parking for about 950 bicycles.
The Wall Street Journal reports that, "the project is part of Amazon's more than $2.5 billion, 25,000-employee office campus," which the company calls its second headquarters. Although, during the COVID-19 pandemic, many tech companies allow employees to work from home, Amazon and others are still buying real estate.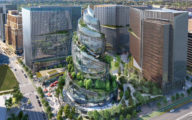 "We have to think about this as a long-term investment," said Amazon vice president of global real estate and facilities John Schoettler. "These buildings will begin to deliver in 2025. And so we believe that the world will be a much improved place than it is currently."
He added that HQ2 takes remote working into consideration, with a design that features collaborative spaces for employees who only go to the office occasionally. "Think of it more like a coffee shop," said Schoettler. The project must first go through a public review process; Amazon hopes to start building in early 2022. Nearby, Amazon is already in construction on two office buildings intended for 12,500 workers.
Amazon has settled on the outdoors theme for the campus to "offer a pleasant work environment and appeal to eco-conscious employees." At architecture firm NBBJ, principal Dale Alberda noted that the Helix "will be an opportunity for people to literally go on a hike in the city."
Inside spaces will also offer "plenty of greenery. "You feel like you're in a lush garden in the middle of winter in DC," said Alberda, whose company previously designed the Recreational Equipment Inc. (REI) headquarters in Seattle, later sold to Facebook.
The Washington Post reports that, Amazon "said they want the corporate complex to blend with the neighborhood," and the 2.5 acres of green space, amphitheater, dog run, bicycle lanes and community center are open to all. The site also "emphasizes sustainability, including environmentally friendly buildings that maximize natural light and eventually would rely entirely on solar power for energy."
The plan will add "about 2.8 million square feet of office space," and construction is expected to end by 2025. The two nearby towers already under construction "will create 2.1 million square feet of office space and about 65,000 square feet of retail space and other community features." Amazon stated that, "it intends to invest more than $2.5 billion in the county over the next decade."
Having been criticized in Seattle that it has "overlooked the side effects of growth, such as gentrification and homelessness," Amazon donated $9 million last year to "local nonprofit organizations, including health clinics, literacy projects and groups seeking to advance the cause of racial equity." The company's Housing Equity Fund, in partnership with the nonprofit Washington Housing Conservancy, purchased an 825-unit apartment complex as affordable housing.
Topics:
Affordable Housing
,
Amazon
,
Amphitheater
,
Coronavirus
,
COVID-19
,
Dale Alberda
,
Facebook
,
Gentrification
,
Helix
,
Homelessness
,
Housing Equity Fund
,
HQ2
,
John Schoettler
,
NBBJ
,
Real Estate
,
REI
,
Remote Working
,
Solar Power
,
Sustainability
,
Virginia
,
Washington DC
,
Washington Housing Conservancy