During its I/O conference this week, Google announced it is releasing a new virtual reality system, dubbed Daydream, which includes a range of VR-capable Android smartphones, a headset design, a controller and applications, all of which will be released this fall. Daydream will be compatible with Google's current and future Android mobile operating system, including the upcoming version, code-named Android N. Samsung, Alcatel-Lucent, Asustek, HTC, Huawei, LG and Xiaomi are among those already building Daydream-compatible phones.
Bloomberg quotes Google vice president of virtual reality Clay Bavor as saying that, "Daydream is our platform for high-quality mobile virtual reality."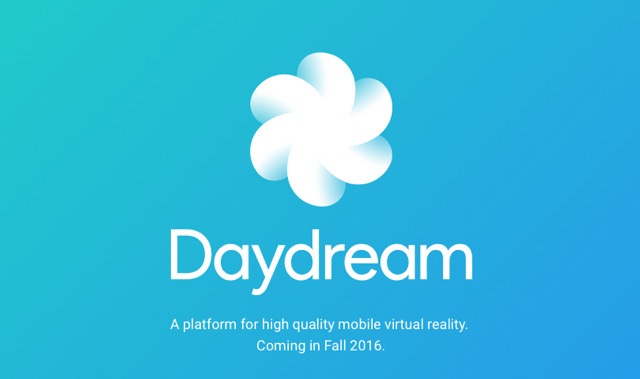 Bavor reports that Google is also working with Netflix, CNN, HBO and Hulu to build new Daydream apps, and, internally, Google is tweaking Photos, Google Play Movies, Street View, and YouTube, to work with the system and has created a new controller "to help people interact with the VR software and content."
Google's first foray into VR was its inexpensive Cardboard, released while Facebook, HTC and Samsung produced high-end standalone devices. With Daydream, Google's "direct integration into Android means Google can piggyback on its vast mobile phone user base to get its own approach to VR in front of millions of people's eyeballs." Google has not yet discussed pricing for Daydream.
The Verge reports that Google has also described some of the experiences that people can have with Daydream, from Cardboard partners such as The New York Times and new entrants such as The Wall Street Journal, as well as Netflix, HBO and Hulu, which, it opines, will probably offer "flatscreen TV and movies in VR." Others on the partner list include IMAX, USA Today, CNN, MLB and the NBA.
Another partner, Lionsgate, is working on VR game tie-ins to movies like "John Wick" and "Now You See Me 2," though The Verge points out, "we don't know what might make it over to Daydream." With regard to games, Google says it's working with a wide range of developers.
"It'll be several months before we're even close to the launch of the first Daydream-ready phone, so we'll be waiting quite some time for any of these apps," says The Verge. "All VR platforms are focused more on consumption than creation. But given how many people Google wants to reach with it, hopefully we'll see the catalog continue to grow in the coming months."
ETC's Phil Lelyveld points out that the Daydream initiative is important because Google is looking to develop "a general purpose VR platform that works on consumer equipment that will be available at a low price point."
"Phone manufacturers are working on sensors that will allow for phone-based lean-in experiences," he explained. "They are also working to increase their processing power and screen resolution. While much attention is focused on the high-end Vive and Rift HMDs, improving the VR experience in this lower end phone-based solution in a nearly manufacturer-agnostic manner may be VR's bridge into the mass market."
Topics:
Alcatel-Lucent
,
Android
,
App
,
Asustek
,
Cardboard
,
Clay Bavor
,
CNN
,
Daydream
,
Facebook
,
Gaming
,
Google
,
Google I/O 2016
,
HBO
,
Headset
,
HTC
,
HTC Vive
,
Huawei
,
Hulu
,
IMAX
,
LG Electronics
,
Lionsgate
,
MLB
,
Mobile
,
Movie
,
NBA
,
Netflix
,
Oculus Rift
,
Photo
,
Samsung
,
Smartphone
,
USA Today
,
Video
,
Virtual Reality
,
Xiaomi
,
YouTube