Google unveiled two new Chromecast streaming devices yesterday, in addition to a new tablet and a pair of Nexus phones. Google has already sold more than 20 million Chromecasts, which now offers access to thousands of apps, including HBO Now and Netflix. The $35 Chromecast extends the mobile apps already on our phones to our TV, whereas a competitor such as the $149 Apple TV is more a device for storing apps to run on television. One of Google's new silver dollar-sized Chromecasts is available to work with your TV, while Chromecast Audio plugs into speakers to play music sent from your phone.
"Much like Apple, Google is pushing a future where televisions become a vessel for the Internet and channels are replaced with apps," suggests The New York Times. "But instead of having separate devices for music and TV, Google has tried to position the mobile phone as the center of everything — a kind of remote control for life."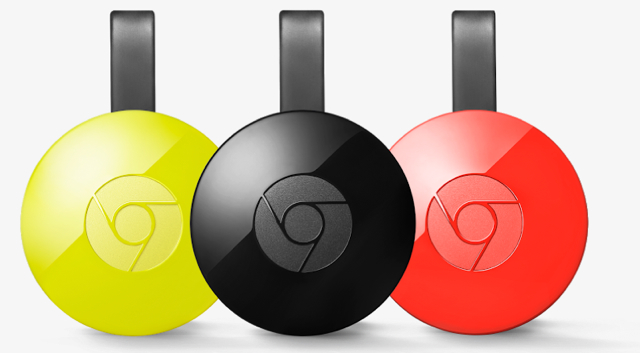 Variety sees Chromecast Audio, which "aims to do for streaming audio what Chromecast did for video," as "a game changer that could turn in-home music streaming mainstream."
During its press event in San Francisco, Google also announced a new partnership with streaming app Spotify, a competitor to Apple Music. The success of both Chromecasts will largely rely upon content. The Chromecast for streaming video, for example, is now compatible with new partners NFL Sunday Ticket, HBO, the Travel Channel and games such as "Angry Birds Go."
Wired suggests that Google's strategy raises some important questions: "Are our phones really the best remotes? And are apps the future of TV? [Google VP Rishi] Chandra thinks so. Apple thinks so too, at least in the latter case. But the future of TV is at least as much up to Netflix, Hulu, Comcast, HBO, and the content holders as it is to platform providers and manufacturers."
As anticipated, the company introduced new Nexus phones that run its Android operating system. Google CEO Sundar Pichai said there are presently 1.4 billion active Android devices.
"The smaller Nexus 5X, manufactured by LG, is just over five inches long and has an ultrasensitive camera that is designed to work better indoors, where people take most of their pictures," notes NYT. "It starts at $379 for an entry-level phone without a contract. The other larger phone, the Nexus 6P, which is made by Huawei, is 5.7 inches and starts at $499."
Topics:
Android
,
Angry Birds
,
Apple
,
Apple Music
,
Apple TV
,
Apps
,
Audio
,
Channels
,
Chromecast
,
Chromecast Audio
,
Comcast
,
Google
,
HBO Now
,
Huawei
,
Hulu
,
LG
,
Mobile
,
Movies
,
Music
,
Netflix
,
Nexus
,
Nexus 5X
,
Nexus 6P
,
NFL
,
Remote Control
,
San Francisco
,
Smartphones
,
Speakers
,
Spotify
,
Streaming
,
Sundar Pichai
,
Tablets
,
Television
,
TV Shows
,
Video
,
YouTube