Facebook's R&D group NPE Team (New Product Experimentation) debuted the public beta of Hotline, a web-based application that allows creators to speak to an audience that can pose questions via text or audio. The first to try out Hotline was real estate investor Nick Huber who, via a livestream, talked about investing in industrial real estate as a secondary income. NPE Team identified Huber as an ideal Hotline user who would use it to expand professional skills or finances. Hotline is led by Facebook product developer Erik Hazzard.
Hotline, inspired by Clubhouse, sports a user interface similar to those from "Clubhouse, Twitter Spaces or any of the other audio-only social networks, when it's viewed on mobile," reports TechCrunch. However, different than Clubhouse, Hotline "has users sign in with Twitter then verify their identity via SMS."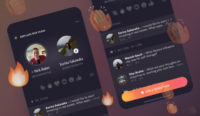 On Hotline, hosts control the experience and can remove inappropriate questions and people. The creator can look at a queue of questions that other users have upvoted or downvoted and "pull listeners onto the stage area with them for a conversation." Listeners can respond to the conversation with emoji "including clapping hands, fire, heart, laughter, surprise and thumbs up."
In addition to the host, "Facebook employees will moderate events and remove anyone that violates Facebook's Community Standards, Terms of Service, Data Policy or the NPE Team's Supplemental Terms." Unlike Clubhouse, Hotline events are automatically recorded; the host receives an MP3 and an MP4 of the event that can then be uploaded to YouTube or Facebook, chopped into short-form for TikTok or turned into a podcast.
Currently, anyone can join Hotline for free, with no limit on audience size. TechCrunch notes that Facebook is "also in the process of developing a Clubhouse rival within the Messenger Rooms product experience."
Reuters reports that, according to a Facebook spokeswoman, Hotline is aimed at "knowledge experts" who can "share tips from different fields like finance or health." She added that it was "too early to tell how creators might make money from Hotline events." It adds that, "Hotline is not currently a standalone app and Facebook said it is testing different authentication methods so users may join the events through Twitter, Facebook-owned Instagram or by providing phone numbers."
Topics:
Audio
,
Authentication
,
Beta Test
,
Clubhouse
,
Emoji
,
Erik Hazzard
,
Facebook
,
Facebook Community Standards
,
Facebook Data Policy
,
Facebook Terms of Service
,
Hotline
,
Instagram
,
Messenger Room
,
Monetization
,
MP3
,
MP4
,
Nick Huber
,
NPE Team
,
Podcast
,
R&D
,
SMS
,
TikTok
,
Twitter
,
Twitter Spaces
,
YouTube