In a direct challenge to Google's YouTube, Facebook introduced licensed music videos to its platform earlier this month. The videos are accessible by genre, artist and mood from a new section in Facebook Watch and are also available via Facebook artist pages. The social network is partnering with publishers including Sony Music Group, Universal Music Group, Warner Music Group, BMG, Kobalt, Merlin and others with licensing deals similar to those already established with YouTube. Meanwhile, YouTube Music is expanding its features as Google gets ready to shut down its Play Music app.
Facebook is starting with music videos from top artists including Blake Shelton, Elton John, Nicki Minaj and Keith Urban. The platform also has plans to offer exclusive content from Internet personalities such as Lele Pons and global acts like J Balvin and Sebastián Yatra.
"Like any video on Facebook, you can react to, comment on and share music videos that are important to you or reflect your current mood across News Feed, Groups and Messenger," explains the company release.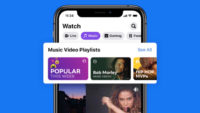 "You can also discover new artists from music videos shared by friends in News Feed, connect with fans who share your passion in a Facebook Group dedicated to your favorite artist, and react to a video in real time as it premieres."
The music videos are "one of several ways artists can connect with fans on Facebook," notes TechCrunch, as the platform "had already rolled out tools that allowed artists to promote new releases with custom AR effects and Music Stickers, host live-streamed Q&As on Facebook Live and raise money for important causes through the donate button in Live and Stories."
Facebook's move is a challenge to YouTube, which has become a leading platform for music sharing and discovery. Some of YouTube's most watched music videos have recorded billions of views, and pop stars from Justin Bieber to Dua Lipa first gained mainstream attention on the service.
YouTube CEO Susan Wojcicki recently stated that a goal for this year is to "partner with the music industry to grow revenue, break new artists and promote music." According to CNN, last year YouTube "paid out more than $3 billion to the music industry through ads and subscriptions. The company also has a music streaming service called YouTube Music with free and paid options."
As Google prepares to shutter its Play Music app in the next few months, YouTube Music has been creating a more robust set of features, including in-app lyrics, an Explore tab to help users find new music, the option for users to upload personal selections to the YouTube Music library and, most recently, a collaborative playlists feature.
"If you want to share a playlist with friend, all you need to do is tap the more menu beside a playlist on YT Music and tap Edit," reports Engadget. "You'll find the 'Collaborate' button right next to the Privacy drop down menu — the app will then give you a link you can share with the friends you want to work with. Other music streaming applications like Spotify have long had collaborative playlists, but it's sure a nice feature to have if you plan on using YouTube Music extensively."
Meanwhile, Facebook plans to take on YouTube with its new collection of music videos. "We'll continue working with our music partners to build unique social experiences and bring music into the ways people connect and share," notes the release. "In the coming weeks, we'll add more of your favorite music videos to Facebook. And over time, we'll introduce more features to help music lovers share, discover and connect around music on Facebook."
Topics:
Blake Shelton
,
BMG
,
Dua Lipa
,
Elton John
,
Facebook
,
Facebook Live
,
Facebook Watch
,
Google
,
J Balvin
,
Justin Bieber
,
Keith Urban
,
Kobalt
,
Lele Pons
,
Licensing
,
Merlin
,
Messenger
,
Music
,
Music Videos
,
News Feed
,
Nicki Minaj
,
Sebastián Yatra
,
Social Media
,
Sony Music Group
,
Spotify
,
Streaming
,
Susan Wojcicki
,
Universal Music Group
,
Video
,
Warner Music Group
,
YouTube
,
YouTube Music