Facebook has been developing a tool that would enable public figures to broadcast live to their fans. The social network launched "Live" this week, as a feature in its Mentions app exclusively available to celebrities with verified Pages. The launch kicked off with streams from stars such as Luke Bryan, The Rock and Serena Williams. It is not known whether the feature will be made available to ordinary users to compete with the likes of Periscope and Meerkat, but the company plans to gather feedback from celebs and viewers to "evolve the product."
"VIPs can start a Live broadcast that's posted to the News Feed, watch comments overlaid in real-time on their stream, and then make the recording permanently available for viewing," reports TechCrunch.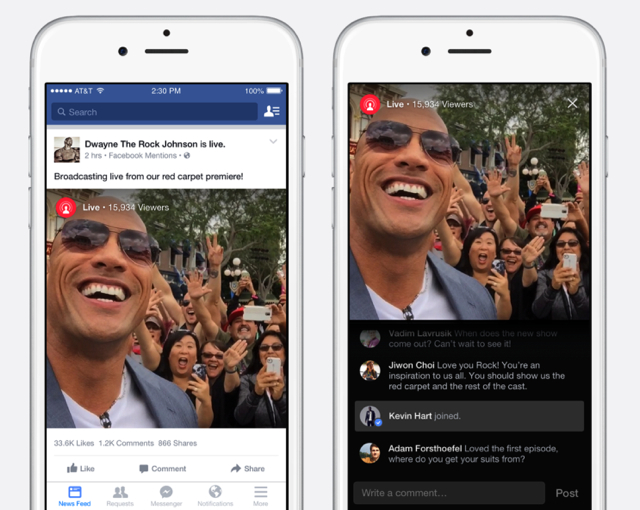 According to Live product manager Vadim Lavrusik, celebrities should prefer Facebook Live over Periscope or Meerkat since "public figures already have fans on Facebook that they share to every single day," and the Live videos do not disappear (Meerkat vids are deleted immediately and Periscope has a 24-hour window, unless you save the videos to your camera roll).
Lavrusik points out that 53 percent of Facebook video views are the result of re-shares. "Broadcasters can delete their videos if they want to keep them off-the-cuff and ephemeral, but otherwise the auto-published Live feed story will turn into a traditional video," notes TechCrunch.
The Mentions app was initially developed to help stars manage interaction with their fans. According to Lavrusik, many of the celebs using Mentions have reportedly requested a video feature.
"While Facebook has never been great at real-time content due to its filtered News Feed, it's worked to make sure Live broadcasts reach viewers while they're still in progress," TechCrunch explains. "Beyond appearing quickly in the feed to a celeb's subscribers, Facebook will send push alerts to tune into the broadcast to users who've recently interacted with that Page. This should trigger big audiences without annoying people who Liked an actor or athlete years ago and don't really care."
For more information, visit the Facebook Media blog.
Topics:
Actors
,
App
,
Athletes
,
Broadcast
,
Celebrities
,
Facebook
,
Facebook Live
,
Live
,
Live Streaming
,
Live Video
,
Luke Bryan
,
Meerkat
,
Mentions
,
Mobile
,
Musicians
,
News Feed
,
Page
,
Performers
,
Periscope
,
Publishing
,
Real Time
,
Serena Williams
,
Smartphones
,
Social Media
,
Streaming
,
Subscribers
,
The Rock
,
Vadim Lavrusik
,
Video