Paramount Pictures is looking to experiment with two October film releases — "Paranormal Activity: The Ghost Dimension" and "Scout's Guide to the Zombie Apocalypse" — by shortening the length of time it takes to make them available to watch at home via digital platforms. AMC and Cineplex are joined by several smaller operators in participating in the new approach. However, Cinemark (the nation's third largest exhibitor) and Regal Entertainment Group (the No. 1 chain in North America) have declined.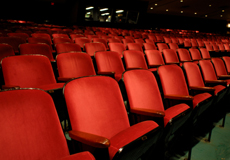 Cinemark announced this week that it would not participate in the experiment. Regal Entertainment made a similar announcement last week, fearing "the long-term health of our business."
While studios are looking to shorten the traditional 90-day exclusive window to screen new films, some exhibitors have expressed concern that the new approach would encourage moviegoers to stay at home and wait to watch new releases on other platforms.
Since most theaters sell the bulk of their tickets in the first month of a release, studios could reduce marketing costs with a shorter window by adjusting the need for a second wave of advertising once a film becomes available for home entertainment.
"In early July, Paramount announced a deal with AMC Theaters, the nation's second-largest chain, with about 5,000 screens, and a leading Canadian multiplex chain, Cineplex, to shorten the window for the two horror movies," reports The New York Times.
"AMC and Cineplex will play the movies in wide release, but as soon as interest begins to wane and the chains cut back availability to fewer than 300 screens, a 17-day clock will begin to tick. After that, Paramount can release the films on digital platforms, with an undisclosed portion of the revenue going to AMC and Cineplex — up to 90 days."
While Regal and Cinemark have rejected the offer, smaller operators including National Amusements, Southern Theaters and Alamo Drafthouse Cinema will participate in Paramount's experiment.
Topics:
Advertising
,
Alamo Drafthouse Cinema
,
Cinemark
,
Cineplex
,
Distribution
,
Exhibition
,
Hollywood
,
Home Entertainment
,
Marketing
,
Movies
,
National Amusements
,
Paramount Pictures
,
Paranormal Activity
,
Regal Entertainment Group
,
Release Window
,
Scout's Guide to the Zombie Apocalypse
,
Southern Theaters
,
Studios
,
Theaters
,
Wide Release