Facebook will launch a small-scale test in the U.S. over the coming weeks to sell video subscriptions directly to its users for BritBox from BBC Studios and ITV, Dropout by CollegeHumor, Motor Trend On Demand and Tastemade Plus. Facebook will initially test the waters with these four smaller services. While no major streaming video services are scheduled to be part of the test, Facebook has contacted networks such as HBO and Showtime about selling their OTT services on the social platform and has reportedly talked with Disney, Hulu and Netflix about offering their streaming services via a new TV chat device rumored to be launching this fall.
"We're testing video subscriptions on Facebook, starting with a limited set of partners," a Facebook spokesperson said in a statement. "We're excited to bring more of people's favorite shows and videos to Facebook, where subscribers can enjoy the content together with other fans. We'll be listening to feedback from our community."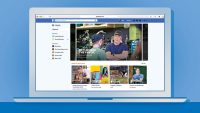 Facebook "wants to be where you head to watch and discuss your favorite shows and videos," reports CNET. "The social network launched its own hub for video and original shows, Facebook Watch (above), in 2017."
According to Variety, "Facebook launched a Patreon-like fan-subscription service for creators" last year, and "starting in January 2020, the company plans to start taking a cut of 30 percent of the revenue from new subscribers on desktop and up to 15 percent for subs paying through Apple or Google mobile app stores."
For its upcoming test, Facebook plans to process payments for its SVOD partners and charge the same amounts as currently listed for each of the services. However, the company has not revealed whether it would receive a percentage of the revenue.
The social giant's strategy "is similar to the SVOD-aggregation play by Amazon and more recently copied by Apple and Roku," notes Variety. "In the U.S., Amazon's Prime Video Channels lineup of 150-plus services include HBO, Showtime, Starz and CBS All Access, with subscriptions available to Prime members. Roku began reselling premium VOD subscriptions in January and Apple this spring launched an updated Apple TV app that lets users subscribe directly" to a wide range of channels.
Topics:
Amazon
,
App Store
,
Apple
,
Apple TV
,
BBC Studios
,
BritBox
,
Cable TV
,
CBS All Access
,
CollegeHumor
,
Disney
,
Dropout
,
Facebook
,
Facebook Watch
,
Google Play
,
HBO
,
Hulu
,
ITV
,
Motor Trend On Demand
,
Movie
,
Netflix
,
OTT
,
Patreon
,
Pay TV
,
Roku
,
Showtime
,
Social Media
,
Starz
,
Streaming
,
Subscription
,
SVOD
,
Tastemade Plus
,
Video
,
VOD