Facebook will release its free Facebook Gaming mobile app, moving up the original June launch as people are sheltering in place due to the COVID-19 pandemic. The app, tested in Southeast Asia and Latin America for 18 months, is designed for creating and watching live game play, a burgeoning sector of the $160 billion global games industry. Having invested in gaming to shed a once-drab reputation, Facebook stated that now 700+ million of its 2.5 billion monthly users engage in gaming. Its rivals in live gaming include Amazon's Twitch, Google's YouTube and Microsoft's Mixer.
The New York Times reports that Facebook head of the game app Fidji Simo said that the app provides "entertainment that is interactive and brings people together," adding that the company is "seeing a big rise in gaming during quarantine." The Facebook Gaming app will be available on the Google Play store for Android devices, and the iOS versions "will be released once Apple approves them."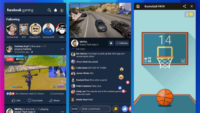 The ad-free app currently makes money when viewers send "stars" (representing sums of money) to streamers. The company wants to build audiences before "adding other ways to make money."
According to Streamlabs, in the game streaming market, "Facebook is No. 3 in total hours watched, behind YouTube and Twitch." The new app "includes casual games and access to gaming communities," but NYT notes that, "its fate will depend largely on how successfully it entices people to watch and create live game streams."
The Go Live function allows users to "upload streams of other mobile games on the same device … [which can] then be shared to someone's personal Facebook page, potentially making it much easier for people to become amateur streamers." The process is a lot simpler than Twitch's, which requires the installation of third-party programs. For people who want to be streamers, said Facebook vice president for gaming Vivek Sharma, "with Go Live it's literally just a few clicks and then live, you're a streamer."
Wired reviews the Facebook Gaming app, calling it "ambitious … aimed at helping you produce and interact with gaming content just as much as you consume it." "Yet in its early stages, doesn't do any one thing well enough to feel competitive," the reviewer says.  The game offerings, she continues, "alternate uncomfortably between products pitched to people who might watch eSports on Twitch and those tilted to the more casual 'Words With Friends' crowd."
"There are better, more established streaming services out there," she says. "And it is just as easy to play Facebook games in the original Facebook app." Exclusive streaming deals with "noted celebrities and microcelebrities" have helped push Facebook Gaming into the No. 3 spot.
The reviewer relates that her two friends couldn't find her streaming, adding that "Facebook says it's continuing to fine-tune the app's discoverability features." She liked the app's News Feed and hopes for one "dedicated entirely to gaming memes and gameplay clips."
"Facebook has invested a lot into its push into games though, and has seen some success, in part, because of its cutesy offerings, deals with top streamers, and an enormous captive audience," she concludes. "It's unclear how a lowest-common-denominator platform can boost Facebook's gaming presence."
Topics:
Amazon
,
Android
,
Apple
,
Coronavirus
,
COVID-19
,
eSports
,
Facebook
,
Facebook Gaming
,
Fidji Simo
,
Gaming
,
Go Live
,
Google
,
Google Play
,
iOS
,
Live Gaming
,
Memes
,
Microsoft
,
Mixer
,
Mobile
,
Social Media
,
Streamlabs
,
Twitch
,
Vivek Sharma
,
Words With Friends
,
YouTube