The Future of Television is a 3-day event focused on streaming, digital video creation, monetization and distribution, connected entertainment and more. The event is designed for broadcasters, studios, cable networks, digital distribution networks, ad firms, VCs, social networks, tech providers and analysts. This year's Future of Television is scheduled for November 10-12 and ETC members qualify for a 20 percent registration discount for access to all speaking sessions and panels. Click here to register with the discount.
According to the Future of Television website, the event "features three days and three tracks with fireside chats, roundtables, panels and presentations on digital video investment, creation, distribution, marketing and monetization. This event brings together many of the elite in the industry for top sessions and power networking. It's not just the deals they make, but people they connect with and the long lasting relationships forged."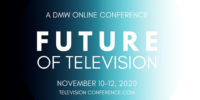 Keynote speakers this year include Brent Weinstein, chief innovation officer and partner at United Talent Agency; Kevin Mayer, former CEO of TikTok and COO of ByteDance, and former Disney exec; Liyia Wu, founder and CEO of ShopShops; and Sara Wilson, founder of SW Projects and host of the live video series, The Digital Campfire Download.
Featured speakers represent a wide range of media companies including CBS, Discovery, NBCUniversal, Netflix, Starz, WarnerMedia, Viacom, Vimeo and numerous others. For a full list of speakers and panels, visit the Future of Television site.
The discount for ETC members brings the registration fee to $83.95.
Topics:
Advertising
,
Brent Weinstein
,
ByteDance
,
CBS
,
Digital Media Wire
,
Discovery
,
Disney
,
ETC@USC
,
Future of Television
,
Kevin Mayer
,
Liyia Wu
,
NBCUniversal
,
Netflix
,
Production
,
Sara Wilson
,
ShopShops
,
Social Media
,
Starz
,
Streaming
,
SW Projects
,
TikTok
,
United Talent Agency
,
UTA
,
Viacom
,
Video
,
Vimeo
,
WarnerMedia