In the final Fall 2020 installment of ETC@USC's Executive Coffee with… series on November 12, Dolby Laboratories proposed two discussion topics: 1) Virtual and augmented reality; what are they good for, and what concerns you about them? And 2) Privacy, security and controlling your own data. Richard Doherty, senior director of technology strategy, Office of the CTO at Dolby Labs led a group of 14 Dolby employees in a discussion with seven USC students studying cinema, engineering, music, communication and business.
MBA student Chloe Ticknor described the King Tut VR experience by CityLights that you experience while sitting in single-person pods as a non-traditional cinematic experience. She can see VR being taken out of the context of cinema and adding it to "another level of culture."
Mechanical engineering junior Taofeeq Rasaki described his summer working on virtual reality for medical training and education.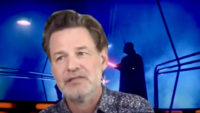 Doherty asked how we could enhance storytelling by adding virtual elements. Cinema graduate student Avo Kambourian discussed how he would like to use dynamically positioned spatial audio. He would also like AR effects such as a dragon flying over the audience at a concert if it had emotional resonance. Dolby's Pat Griffis added that AR glasses at a concert could provide sound reinforcement — a better audio experience regardless of where you are sitting.
Rasaki stressed the importance of the design aesthetics for any AR or VR gear. He reminded the group of the "epic fail" of Google Glass. Kambourian also mentioned the importance of user experience design and how controllers instead of voice or other user interface options may be holding back AR and VR adoption.
Raising Dolby's second issue of controlling personal data prompted Kambourian to mention the documentary "The Social Dilemma," which has come up frequently in these ETC Executive Coffee sessions. Kambourian said that you have to give consumers the option to control their data or else face a consumer outcry.
In response to a question from Doherty, Kambourian said that he frequently uses two-factor authentication, but he is also on Facebook and Instagram. The issue is bigger than log-on security protocols. Given all the fake news that he has seen over the past year in the U.S. and in his homeland of Armenia, Kambourian said that he no longer trusts much of social media or the news in general. He suggested establishing a neutral third party to house and manage personal data.
Dolby's Walt Husak reported that there are far fewer data breaches in Europe than in America. He said that this was in part because the European Union has consumer opt-in regulations whereas, aside from California's opt-in regulation, most U.S. states don't have laws controlling personal data. Annenberg junior Noah Kim mentioned that people are often willing to give up their data privacy for convenience.
For more of the discussion, check out the 11-minute highlight video online.
NOTE: This was the last ETC Executive Coffee with… of the Fall 2020 semester. We will be restarting the program in the Spring semester, which starts January 15, 2021. Anyone at an ETC-member company is invited to suggest a question or topic for one of these student and executive coffees.
The ETC@USC's Executive Coffee with… Series
The Entertainment Technology Center at USC produced a series of virtual "executive coffee discussions" during the Fall semester. These one-hour discussions provide an opportunity for students and ETC member company executives to connect and discuss topics of mutual interest during this period of remote learning and social distancing.
For each session an executive posed one question or topic, students from across USC submitted brief statements of interest, and the ETC invited between 5 and 16 students to participate in the Zoom meeting. Each session was recorded and an 8- to 13-minute highlight video was produced.
The sessions were hosted by Verizon (September 23), Universal Pictures (September 29 and October 9), Fox Corporation (October 14), Equinix (October 22), ETC execs (October 29), Vubiquity (November 4) and Dolby Labs (November 12).
The videos are available on the Executive Coffee with… page online.
Topics:
Augmented Reality
,
CityLights
,
Coronavirus
,
COVID-19
,
Dolby Labs
,
Equinix
,
ETC@USC
,
European Union
,
Facebook
,
FOX
,
Google Glass
,
Instagram
,
Pat Griffis
,
Privacy
,
Remote Learning
,
Richard Doherty
,
Security
,
Social Distancing
,
Spatial Audio
,
Universal Pictures
,
Verizon
,
Virtual Reality
,
Vubiquity
,
Walt Husak