During this week's Electronic Entertainment Expo in Los Angeles, Disney Interactive promoted "Disney Infinity," its upcoming video game environment and merchandise hybrid that incorporates physical toy figurines based on popular characters from the company's films and television shows. Kids can interact with RF-outfitted action figures, power discs, and play set hexagons that can integrate film locations and theme park attractions.
"The toys are used to trigger avatars that can be played across an array of minigames and virtual worlds via consoles including Microsoft's Xbox 360, Sony's PlayStation 3 and Nintendo's Wii U," reports Variety.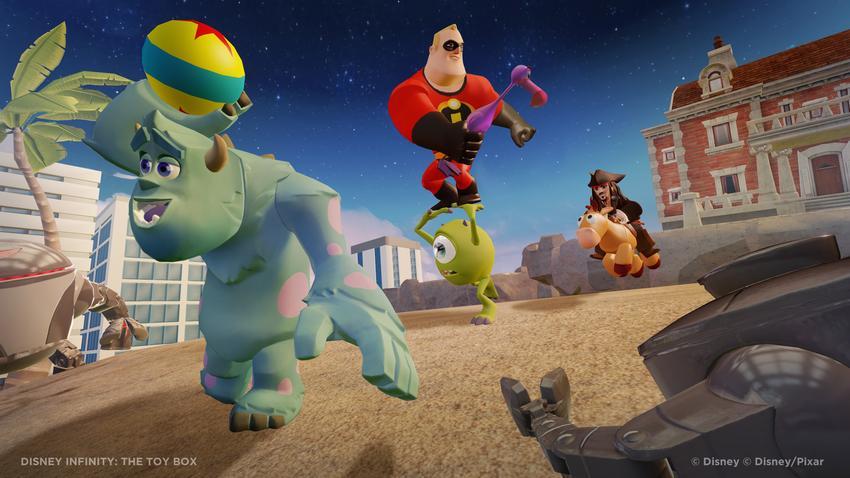 The first phase of the rollout will include characters such as Sulley and Mike from "Monsters University," Lightning McQueen from "Cars," Captain Jack Sparrow, and the Lone Ranger and Tonto.
"Up to four kids can play at once in this child-safe walled garden online environment," notes ETCentric contributor Phil Lelyveld. "A major selling point is that aside from normal gameplay, the gamers can build and manipulate the world and game that they are in."
"Gamers need to purchase a $75 starter pack that comes with three figures and a 'reader' pad," explains Variety. "When the toys are placed on the reader, the game recognizes the figures and inserts them into one of two game modes on the TV screen — a story-based campaign and a toy-box mode in which anything goes and a mashup of all things Disney can take place."
"Additional discs, which are also placed on the reader, determine various powers of the characters and add upgrades or new locations, props and settings. The game's split-screen modes enable multiple people to play together at the same time."
"It's the biggest product we've made by a factor of three," says John Blackburn, CEO of Avalanche Software, which has been developing the game since 2010.
Disney is planning to launch "Infinity" by mid-August. Allowing for the continuous introduction of new Disney characters, the game potentially has no end — and if successful, the company could have a major new franchise on its hands.
Related News:
E3 Entertainment Technology Highlights, Philip Lelyveld: The World of Entertainment Technology, 6/11/13
Disney Infinity and Skylanders Combine Toys and Games, TechNewsDaily, 6/12/13
Topics:
Avalanche
,
California
,
Disney
,
Disney Infinity
,
E3
,
Film
,
Game
,
Gamer
,
Gaming
,
Infinity
,
Interactive
,
LA
,
Los Angeles
,
Microsoft
,
Movie
,
Nintendo
,
Online
,
PlayStation
,
Sony
,
Television
,
TV
,
Video
,
Videogame
,
Virtual
,
Walt Disney
,
Wii
,
World
,
Xbox