For those who purchase the newly released "Man Of Steel: Original Motion Picture Soundtrack" limited deluxe edition CD, a unique feature joins Hans Zimmer's musical score. The deluxe edition includes an access code to download the Z+ Music app for iOS devices that allows users to play the soundtrack in 11.1 channel surround sound using any headphones, including earbuds. The free Z+ app will soon be available to Android users.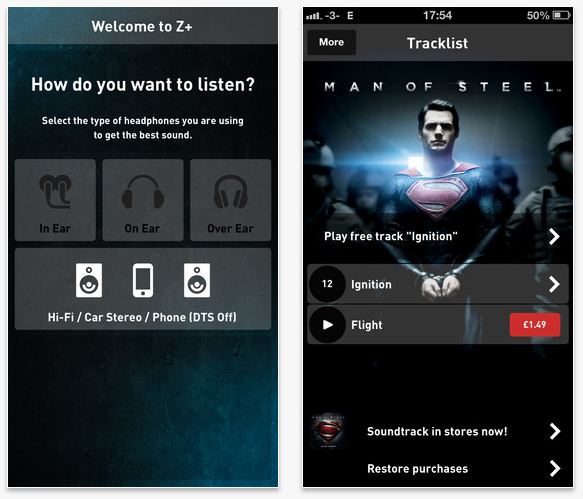 "This expanded surround sound version of the soundtrack was mixed using DTS Headphone:X processing, which creates an immersive 3D listening experience utilizing 11.1 channels in the mastering process," explains Robert Silva, writing for About.com Home Theater.
"DTS Headphone:X is similar to DTS Neo:X audio processing that is incorporated into some newer home theater receivers, which creates an 11.1 channel surround sound listening experience using speakers," adds Silva. "There is no word if DTS Headphone:X might also be included as a feature in future home theater receivers."
According to the press release, the "Man of Steel" soundtrack is the first title to ship featuring the DTS Headphone:X mix.
"With the 'Man of Steel' soundtrack, I wanted to try something new and give fans the opportunity to connect with characters and completely immerse themselves in the emotion and action of the movie in a way that's never been done before," explains Zimmer. "I think DTS Headphone:X is an incredible tool for putting the listener directly into my chair, allowing them to hear the way the music was actually written. Every bit of the music is accurately recreated, allowing fans to hear all elements of the soundtrack, exactly as I heard it while producing it."
A few weeks ago, AVS editor Scott Wilkinson joined several journalists who were invited to Warner Bros. in Burbank for a demonstration of DTS Headphone:X and a conversation with Zimmer and his producer Peter Asher. Wilkinson praises the technology in his AVS Forum review.
"DTS assured us that it is working with many consumer-electronics manufacturers to implement Headphone:X in AVRs and other products, though the details of exactly how it will work remain somewhat vague," writes Wilkinson. "For example, will an AVR have a Headphone:X encoder for discrete multichannel signals, or will it work only with pre-encoded files? Time will tell, but meanwhile, I'll be listening to the score from 'Man of Steel' on my iPhone."
The Z+ Music app, released June 8 by Remote Control Productions, is available in the iTunes Store.
Online pricing for the "Man of Steel" deluxe edition CD currently ranges from $18-22. The standard edition ranges from $13-16.
Topics:
3D
,
Android
,
App
,
Apple
,
CD
,
Film
,
Google
,
Hans
,
Headphone:X
,
Home Theater
,
iOS
,
iTunes
,
Man of Steel
,
Motion Picture
,
Movie
,
Music
,
Neo:X
,
Remote Control
,
Soundtrack
,
Superman
,
Surround Sound
,
Warner
,
Z+
,
Zimmer