Facebook chief executive Mark Zuckerberg announced updates to Shops, a new version of an existing Facebook feature that lets retailers upload product catalogs to their Facebook page or Instagram profile. Users can access Shops on the retailer's page or, by clicking on an ad, will land on the retailer's Facebook-located Shop. Zuckerberg stated that Shops will eventually be available on Messenger and WhatsApp as well. The company relies on several AI systems, including GrokNet, which can "segment, detect and classify images."
Bloomberg reports that Zuckerberg, who has been very involved in the product, "highlighted the importance of Shops for small businesses, almost all of which are operating exclusively online during the COVID-19 pandemic," and noted that the "vast majority" of Facebook advertisers are small businesses. Facebook stock rose 3 percent after the news.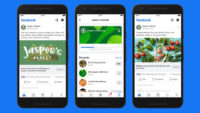 Facebook Shops offers similar functionality as the Facebook Page Shop, which allowed brands to list products in digital store fronts. Facebook vice president of central services Javier Olivan heads up Shops. Retailers can create Shops for free and then "import existing product catalogs from Shopify or BigCommerce to expedite the process and eliminate barriers."
Facebook's move into e-commerce "could help boost its advertising business … but commerce could also offer an alternative revenue stream to advertising," since Facebook takes a small cut of every sale through Instagram. "Shops could eventually increase that number by hundreds of thousands, or even millions," says Bloomberg.
VentureBeat reports that Facebook's new products are "powered by a family of new AI and machine learning systems … [and are] a step toward its vision of an all-in-one AI assistant that can search and rank products, while at the same time personalizing its recommendations to individual tastes."
GrokNet "was trained on seven data sets containing images of products that millions of users post, buy, and sell in dozens of categories" while another AI system "creates 3D views from 2D videos of products … [and] a third spotlights apparel like scarfs, ties, and more that might be partially obscured by their surroundings."
According to Facebook, GrokNet is "able to identify 90 percent of home and garden listings compared with Facebook's text-based attribution systems, which can only identify 33 percent." GrokNet also tags products on Facebook Pages "when Page admins upload a photo." Facebook developed "a technique to automatically generate additional identifiers [out of 3 million possibilities] using GrokNet as a feedback loop."
The AI model that powers Facebook's 3D views is a feature "now available on Marketplace for iOS in a test." Shortly, Facebook will "draw on its Spark AR platform checkout to allow customers to see how items look in various places."
Engadget shows a Facebook video of how the system will work, and notes that GrokNet will both "automatically suggest a product's attributes to Marketplace sellers when they upload a picture of what they're trying to list" and allow retailers to "display their wares in a more natural setting."
Topics:
3D
,
Advertising
,
Artificial Intelligence
,
BigCommerce
,
Coronavirus
,
COVID-19
,
Digital Store Front
,
E-Commerce
,
Facebook
,
Facebook Shops
,
GrokNet
,
Instagram
,
iOS
,
Javier Olivan
,
Machine Learning
,
Mark Zuckerberg
,
Marketplace
,
Messenger
,
Recommendation
,
Retail
,
Shopify
,
Shops
,
Social Media
,
Spark AR
,
WhatsApp