Disney will be releasing its "Disney Infinity" video game that will include two other apps in the pan-Disney character multi-platform game, similar to Activision's "Skylanders." The game uses NFC to provide toy interaction with the game. The free game apps are an ideal incentive for players to move to the paid version, where users can purchase additional toy accessories and add-ons that can be used for enhanced game play.
"Disney Infinity," the console game, will be released on August 18th for Xbox 360, PlayStation 3, Wii and Wii U, with a spin-off for Nintendo 3DS, according to Wired. App games connected to "Infinity" will also be available.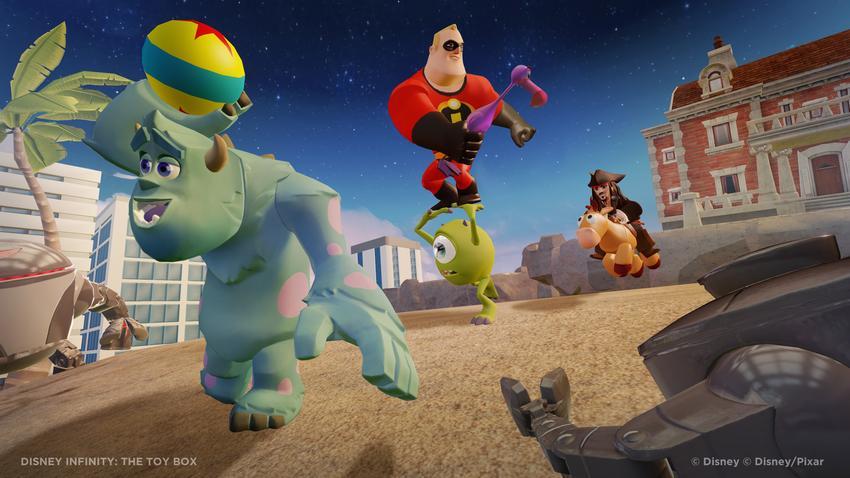 Players can create videos that include themselves with Disney characters in the "Disney Infinity: Action!" app. The free app, which is a separate download, has iOS and Windows Mobile versions that were released on Thursday, with an Android version coming later.
The app will include a limited number of characters, with the option to earn credits or use real money to buy additional items or features. Players can earn credits by various actions, such as uploading videos to Facebook, viewing advertisements on the "Infinity" game or by logging in daily.
Figurines bought for the "Infinity" game include a code that can also be used in the "Action!" app to receive more credits. The free app may be a risky move, but it has the potential to greatly increase its player audience.
The company has also announced a free iPad only version, "Toy Box," where you can build Disney themed worlds with one character. There is also a Toy Box mode in the console version, where users can create Disney themed worlds, similar to "Minecraft."
Players can also invite other users to play in their created worlds, or upload them to Disney, which will maintain and distribute them across platforms. Worlds created on one version can be played on another.
Interactive figurines are required for game play in "Disney Infinity," with a few characters included in the $75 starter pack. Additional characters can be added for $13 each. Users can purchase characters for the iPad version for $0.99, but they will only be available on the iPad game.
"It's easy to see why these free apps, especially 'Toy Box,' might be a big deal. Lots of kids are playing their games on tablets these days, and free is a killer price point," notes Wired. "Rather than having to get players to buy a $75 starter pack at first, then hit them with smaller transactions for each action figure, Disney could get them hooked on creating in the 'Toy Box' for free, then move them up the pricing chain instead."
Related Stories:
Disney Tries Anew to Raise its Score on Digital Games, The Wall Street Journal, 8/15/13
E3 2013: Disney Infinity Has Potential as Major Franchise, ETCentric, 6/13/13
Disney Preps Infinity: New Universe for Interactive Gaming, ETCentric, 1/22/13
Topics:
3DS
,
Activision
,
App
,
Apple
,
Console
,
Credit
,
Disney
,
Disney Infinity
,
Facebook
,
Game
,
Gamer
,
Gaming
,
Infinity
,
Interactive
,
iPad
,
Microsoft
,
Minecraft
,
Mobile
,
Nintendo
,
PlayStation
,
PlayStation 3
,
Skylanders
,
Social
,
Sony
,
Tablet
,
Toy Box
,
Video Game
,
Wii
,
Wii U
,
Xbox
,
Xbox 360
,
Xbox One