Disney CEO Bob Iger announced yesterday that the company's planned subscription video service is slated to launch November 12th of this year at $6.99 per month (undercutting competitors such as Netflix). The service, which will feature movies and TV series from Disney, Fox, Pixar, National Geographic, Marvel and the "Star Wars" franchise, is planned to roll out in Europe and Asia in 2020. Disney is anticipating 60 million to 90 million subscribers by 2024. To start, Disney+ will offer 10 original movies, 25 original series, all 30 seasons of "The Simpsons," many of the "Star Wars" films, and family content from the Fox library.
To market the new service, Disney will start "with a 'Star Wars' fan convention in Chicago this weekend," reports The New York Times. "Disney will also mobilize its cruise line, global theme parks, retail stores, hotels and television networks, including ESPN and ABC." The movie could be significant, marking the first time that a Hollywood studio has enough goods to take on Silicon Valley in online video.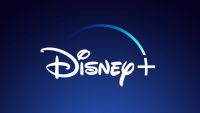 During yesterday's event, Disney unveiled clips of its planned original content and demonstrated the new Disney+ app. "The simple user interface, with movie and television tiles arranged against a dark background, will look familiar to any Netflix, Amazon or Hulu user," note NYT. "There will be 'recommended for you' rows of suggested shows and movies, as well as the option to 'continue watching' programs. There will be tiles dedicated to the Disney brands."
Disney addressed its broader streaming business, which also includes sports-focused ESPN+, Indian digital and mobile platform Hotstar, and Hulu (Disney now controls 60 percent of joint venture Hulu following its acquisition of numerous 21st Century Fox properties).
According to Kevin Mayer, chairman of Disney's Direct-to-Consumer and International division, the company is "actively evaluating" its worldwide strategies for Hulu, and is "likely" going to bundle its various services at a discounted price in the future.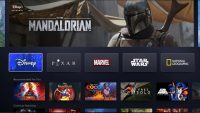 Disney+ will support 4K and HDR in addition to provide its subscribers with the option to download and watch content offline. By its fifth year, Disney+ expects to offer more than 50 original series, 10,000 previously released episodes and 500 movies.
"As far as where you'll be able to watch, we saw the app running in a smart TV UI that looked like most Apple TV apps, as well as a tablet interface," explains Engadget. "The goal is to have it everywhere, and while Disney announced Roku and PS4 as partners by name, it plans to have availability on the usual list of TVs, set-top boxes, dongles and game consoles when it launches."
Related:
Disney Flexes Brand Muscle and Investment Capabilities in Unveiling Disney Plus, Variety, 4/11/19
Topics:
21st Century Fox
,
4K
,
ABC
,
Amazon
,
Asia
,
Bob Iger
,
Disney
,
ESPN
,
Europe
,
FOX
,
HDR
,
Hotels
,
Hotstar
,
Hulu
,
Kevin Mayer
,
Marvel
,
Movie
,
National Geographic
,
Netflix
,
Original Content
,
Pixar
,
PS4
,
Roku
,
Star Wars
,
Streaming
,
Subscription
,
SVOD
,
Television
,
The Simpsons
,
United States
,
Video
,
VOD