The Walt Disney Company has invited nine new companies into its 2016 Accelerator program. Disney Accelerator, now in its third season, has gained a desirable profile as several alumni have inked partnership deals with Disney. Among them are Sphero, creator of the BB-8 droid "Star Wars" toy and sports data platform StatMuse, which now works with Disney's ESPN. One of this year's invited startups, says The Walt Disney Company's senior vice president of innovation Michael Abrams, is an internal project team.
TechCrunch quotes Abrams as noting that, "We've always been very media and entertainment oriented, obviously. What we can do better than other accelerators is to help [entrepreneurs] learn and refine the art of storytelling by working with some of the world's best creatives, and help them understand the various business segments within media and entertainment from advertising to theme parks."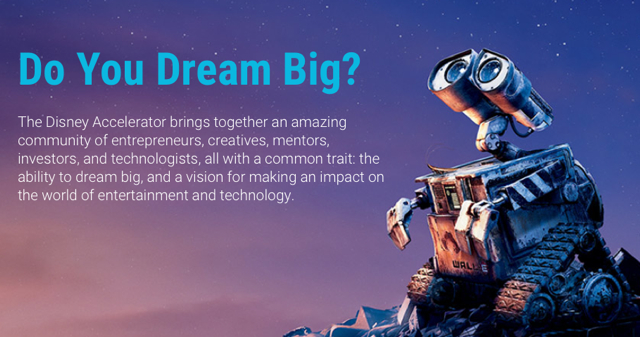 This year, Disney Accelerator includes Ader, "a marketplace connecting brands with eSports and gaming influencers" whose "network of influencers reaches over 50 million monthly viewers." The company has already raised $125,000.
Atom Tickets, which raised $50 million in venture capital, is a full-featured mobile movie-ticketing app for buying tickets, pre-ordering concessions, browsing trailers and many other movie-related activities.
Based in Hong Kong, Hanson Robotics builds "human-like robots with a full range of facial expressions." Sophia, its most well known robot, stars in videos viewed more than one billion times.
Jaunt VR, which has raised $100 million in venture funding, develops "hardware, software, tools and applications" for cinematic VR.
Composed of user-friendly electronic building blocks, littleBits "empowers kids to invent anything," and has already raised $60 million. The company founder is Ayah Bdeir, TED senior fellow, MIT Media Lab grad and co-founder of Open Hardware Summit.
Founded by two former YouTube engineers, Nom is "an online live streaming video community for chefs and food lovers." OTOY is "a holographic content platform bringing light field rendering and network streaming" to VR and AR. Playbuzz, which has raised $31 million and has offices in New York and Tel Aviv, is a "content-creation and audience-engagement platform" for marketers, publishers and their ilk to create content for mobile platforms "optimized for social sharing." Having raised more than $16 million, Pley is a toy subscription company that, for a monthly fee, sends members a toy chosen from a catalog "of at least 500 toys."
Topics:
Accelerator Program
,
Ader
,
Advertising
,
Atom Tickets
,
Ayah Bdeir
,
BB-8 Droid
,
CInematic VR
,
Disney
,
Disney Accelerator
,
ESPN
,
eSports
,
Gaming
,
Hanson Robotics
,
Holographs
,
Jaunt VR
,
Light Field
,
littleBits
,
Michael Abrams
,
Movies
,
Nom
,
OTOY
,
Playbuzz
,
Pley
,
Sophia
,
Sphero
,
Sports
,
Star Wars
,
StatMuse
,
Theme Parks
,
TWDC
,
Venture Capital
,
YouTube